When BoJack Horseman (2014-2020) was first announced, it made news as the first adult animated original programming for Netflix. I recall at the time that there was a certain amount of hoopla around this—not just for being adult-oriented animation (which used to be considered a rarity), but for being one of Netflix's first entries into original animated programming, period.
Six years later, animation vast presence has become the norm, consistently making a significant portion of the content on streaming platforms. But between each platform, there are a variety of different production and curation strategies. This blog post considers HBO Max and examines the particular ways in which it leverages three different animation intellectual properties (IPs) to make itself a prominent streaming platform amidst the current 'streaming wars.'
HBO Max's story is one of media conglomeration. Owned by WarnerMedia (which has now successfully merged with AT&T), HBO Max is an interesting entry into the platform wars in how it leverages the HBO brand identity, while also tapping into the newly restructured Global Kids, Young Adults, and Classics unit at WarnerMedia.[1] This unit, headed by Tom Ascheim (who previously worked for Nickelodeon), appears to consider animation as a key asset when working with the youth and young adult market.[2] Cartoon Network, Adult Swim, Boomerang, and Warner Bros. Animation are all a part of this business unit. HBO Max, debuting later this month, is an extension of the business organization strategy and is tapping into its various animation IP to draw audiences (particularly millennials) to its platform.
The first of the three notable animation IPs used here is Adventure Time: Distant Lands. Adventure Time (2010-2018), a critically acclaimed show on Cartoon Network popular with both kids and adults. With the announcement of Distant Lands exclusive to HBO Max, it was clear that these four hour-long specials were made as an exclusive draw for the Kids & Young Adults markets, while also working HBO's brand of 'quality' entertainment.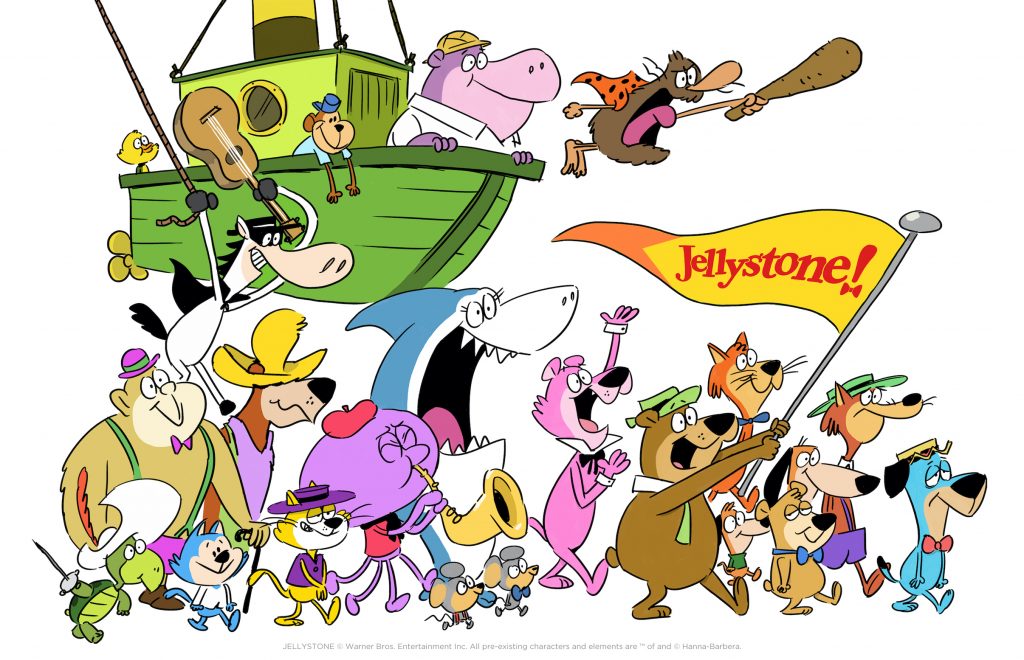 The second notable HBO Max animation IP is Jellystone!, a Hanna-Barbera reboot where various Hanna-Barbera characters (such as Yogi Bear, Top Cat, El Kabong, and more) live, work, and play together, as well as cause plenty of mischiefs (see Fig. 1). What is notable here is how this project relies on the rebooting and repackaging of Hanna-Barbera IP (originally acquired by Ted Turner for Cartoon Network). The same could be said for HBO Max's Looney Tunes reboot as well.
Finally, HBO Max also recently announced that Crunchyroll (also owned by AT&T) will curate a select number of anime series for the streaming platform.[3] Certainly the addition of titles like Fullmetal Alchemist: Brotherhood (2009-2010) helps with the 'Max' aspect of HBO Max, adding to a vast catalog of quality entertainment. But many of the particular titles offered are aimed at audiences who are not necessarily anime fans at all. For example, the anime 91 Days (2016) is part of the HBO Max debut launch catalog. It is a generally accessible, by-the-book gangster genre series that I have often seen recommended as an anime series for those who do not watch anime regularly (I highly recommended it in general). Series like these act as a sample of key, cross-over anime hits that will likely be enough for the average viewer, but won't inundate the platform with series that may seem alienating for those unaccustomed to the peculiarities of anime. Crunchyroll's role here is to serve as the careful curator, selecting mainstream hits for HBO Max, while also enticing viewers who like what they see to subscribe to their specialized anime streaming platform. This is somewhat speculation for now, of course, as HBO Max has not launched yet, and we do not yet know the specifics of what the interfaces and content curation of the platform will look like. Still, from what has been described by the recent press releases, this appears to be what HBO Max is aiming for.[4]
To conclude, HBO Max leverages animation content in a few different ways to entice viewers, while also maintaining the larger HBO and WarnerMedia branding and business organization. My future anticipated research on HBO Max will situate the platform within the larger transition from broadcast television to streaming platforms, and examine to what extent televisual practices have been carried over into the digital streaming marketplace.
On a final note, I find it striking that throughout the AT&T-WarnerMedia merger, there has been a consistent erasure of the Turner brand. After all, the Global Kids, Young Adults, and Classic business unit is essentially Turner Broadcasting Corporation in all but name. In some ways, it seems that Turner's work with animation programming is prescient, and uniquely responds to and is adapted to the digital streaming age. This is another site of my future research, something I hope to report back on soon.
---
Jacqueline Ristola lives and works as a guest in Tio'tia:ke. She is a Ph.D. candidate in Film and Moving Image Studies at Concordia University, Montréal, and a FRQSC scholar. She received her master's degree in Cinema and Media studies from York University in 2017, where she also received a Graduate Diploma in Asian Studies from the York Centre for Asian Research. Her research areas include animation/anime studies, media industry studies, and queer theory. Her dissertation examines the transition from broadcast to streaming platforms through the case study of animation television channel Cartoon Network. Her work is published in Animation Studies Online Journal, where she was awarded the inaugural Maureen Furniss Student Essay Award, and also has a chapter in Representation in Steven Universe (Palgrave 2020). She is a member of the Global Emergent Media Lab and the Platform Lab at Concordia University.
---
[1] This business unit was first assembled in 2019, then titled Global Kids & Young Adults. It was originally to be headed by the then chairman and CEO of Warner Bros, Kevin Tsujihara, who has since resigned following an investigation into his relationship with actress Charlotte Kirk and allegations he used his clout to help her find work at the studio.
[2] WarnerMedia Pressoom, "Tom Ascheim Named President Of Global Kids, Young Adults And Classics At Warner Bros.," April 8, 2020, https://pressroom.warnermediagroup.com/sg/media-release/tom-ascheim-named-president-global-kids-young-adults-and-classics-warner-bros.
[3] Julia Alexander, "HBO Max will use anime from Crunchyroll to compete with Netflix's growing empire," May 7, 2020, https://www.theverge.com/2020/5/7/21250936/hbo-max-crunchyroll-anime-netflix-amazon-funimation-fullmetal-alchemist-death-note-kill-la-kill.
[4] Warnermedia Pressroom, "HBO MAX and Crunchyroll Team to Bring Fans More Anime on May 27th," May 7, 2020, https://pressroom.warnermediagroup.com/na/media-release/hbo-max/hbo-max-and-crunchyroll-team-bring-fans-more-anime-may-27th.
---