Review of Daisy Yan Du. Animated Encounters: Transnational Movements of Chinese Animation 1940s-1970s. University of Hawai'i Press, 2019.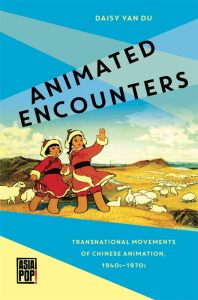 Daisy Yan Du's excellent Animated Encounters: Transnational Movements of Chinese Animation 1940s-1970s is essential reading for anyone interested in Chinese or Japanese animation, offering information and analysis otherwise unavailable in English. It also perceptively develops broader discourses around the use of animals in animation, constructions of gender and ethnicity in animation, and animation and politics.
Animated Encounters is an innovative departure from the three previous English-language, book-length studies of Chinese animation: Rolf Giesen's Chinese Animation: A History and Filmography 1922-2012; Sean Macdonald's Animation in China: History, Aesthetics, Media; and Weihua Wu's Chinese Animation, Creative Industries, and Digital Culture. Scholarship on live-action Chinese-language cinemas has long "been at the forefront of theorizing the transnational" (Higbee and Lim 2010, 14). However, English-language animation scholarship (and, for that matter, Chinese-language scholarship) on Chinese-language animation has been primarily bounded by the political, geographical, historical, and linguistic of borders of a national cinema approach. By prioritizing the transnational, Du tells different stories and tells these stories differently, demonstrating the ongoing, productive tensions between transnational and national forces. Taking her theoretical inspiration particularly from Norman McLaren and Thomas Lamarre, she foregrounds movement – physical/visual, ideological, geopolitical, and sociohistorical – as the defining feature of the form.
The first chapter addresses Asia's first feature-length animated film, Princess Iron Fan (Wan Laiming and Wan Guchan, 1941), and its influences on Japanese animation. Upon release, it deeply inspired the father of anime, Tezuka Osamu, as well as the production of Japan's first animated feature, Momotarō's Sea Eagles (Seo Mitsuyo, 1943), and Momotarō's Divine Sea Warriors (Seo Mitsuyo, 1945), both explicit Japanese wartime propaganda. Du's discussion addresses production, distribution, reception, and the sociopolitical context, as well as thematic issues of gender and speciesism in Princess Iron Fan and its Japanese successors. The transnational perspective is an especially fresh approach to this foundational time in both Chinese and Japanese animation.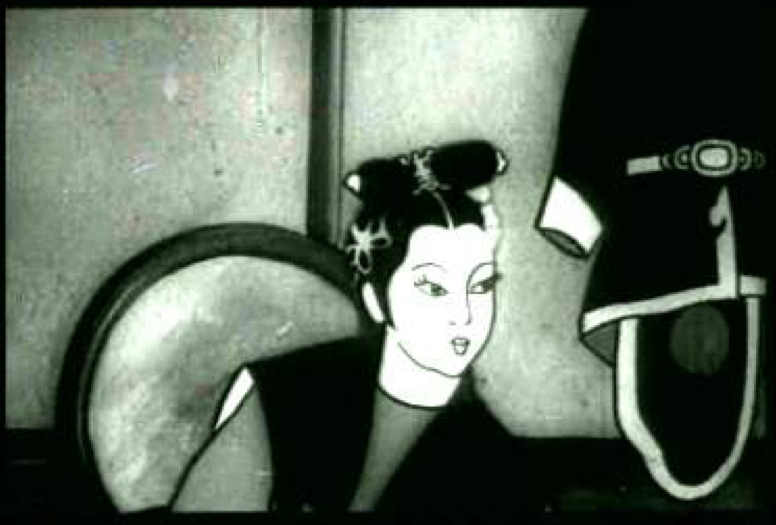 The second chapter, conversely, addresses Japanese influence on China through the fascinating figure of Mochinaga Tadahito, who moved to Manchuria just before the end of the Sino-Japanese War. He worked at the Northeast Film Company, whose political and artistic complexities, and those of its progenitorial Japanese-owned company, Man'ei, Du examines extensively. Although Mochinaga only stayed in China until 1953, his greatest contribution to Chinese animation was his pioneering work in the development of both puppet animation and – unexpectedly – a national Chinese animation style. His Dreaming to be Emperor (Chen Bo'er, 1947) was inspired by Peking opera and is the earliest existing stop-motion animation made in China. His profound significance as "the first major puppet animator in the history of Japanese cinema" (Du 2019, 102) and his mentorship of Kawamoto Kihachirō demonstrates the flows of expertise and influence back and forth between the two nations. If the first chapter argues that Japanese animation is infused with Chineseness, this chapter argues that "the Chineseness of Chinese animation was tinged by Japanese animation" (68).
The third chapter discusses the development of the ideology of national style in the late 1950s and early 1960s. Du argues that, rather than reflect a Chinese "essence," national style is a changing, contextual concept influenced by transnational forces. Beginning with an exploration of ink-painting animation, which adapts Chinese brush painting to screen, she charts the dissolution of Chinese-Soviet relations and the concurrent rise of international-motif, western-influenced animation with more conventionally "national" forms such as paper-cutting and paper-folding animation in addition to ink-painting. Her revisionist reading of The Fishing Boy (Wan Guchan, 1959) as an embodiment of both national and international forms demonstrates the fluidity of boundaries between them. Also, her narration of the radically different content and perceptions of the first two ink-painting animations, produced only three years apart, demonstrates the changing notion of national style and its detachment from the essentialism of technique or medium. This argument is continued in the fourth chapter, which addresses the Cultural Revolution, during which national style pertained to revolutionary politics rather than ink-painting and other traditional aesthetics.
While earlier chapters touch periodically upon the significance of animals in animation, the fourth chapter centers on it, as exemplified in a close reading of Heroic Little Sisters of the Grassland (Qian Yunda and Tang Cheng, 1964), whose Mongolian heroines grace the cover of Du's book. During the Cultural revolution, anthropomorphized animals became politically poisonous: the sheep here are not anthropomorphic friends but rather collective property represented in a realistic vein. This opens into a broader discussion of the interconnectedness of children, animals, and ethnic minorities in animated films from the late 1950s through the Cultural Revolution: ethnic otherness was constructed as childlike and feminine and identified with animals, while adult, male villains had animals' names and characteristics. This chapter also maps the reappearance of anthropomorphized animals at the end of the Cultural Revolution, and the brief epilogue rounds out this look beyond the end of the 1970s.
This is a truly welcome book. Especially invaluable for those of us who do not speak Chinese and Japanese, it is scintillating for those who do, theoretically rich and complex, meticulously researched, and engagingly written. My only criticism is that a full, bilingual filmography would have been very valuable, especially as Du strategically avoids identifying films according to the film studies convention of director and year. Nonetheless, this book will whet appetites for both the films and for Du's scholarship. She notes that the post-socialist era deserves its own book-length study (see Du 2019, 3); if she takes on this challenge from a similarly transnational perspective, we will be the gainers.
---
Shannon Brownlee is the Associate Director of Cinema and Media Studies at Dalhousie University in Halifax, Canada. In addition to topics in animation, her research addresses feminist and queer live-action cinema as well as adaptation across a variety of media.
---
References
Giesen, Rolf. Chinese Animation: A History and Filmography, 1922-2012. McFarland, 2015.
Higbee, Will, and Song Hwee Lim. "Concepts of Transnational Cinema: Towards a Critical Transnationalism in Film Studies." Transnational Cinemas, vol. 1, no. 1, 2010, pp. 7-21.
Macdonald, Sean. Animation in China: History, Aesthetics, Media. New York: Routledge, 2016.
Wu, Weihua. Chinese Animation, Creative Industries, and Digital Culture. New York: Routledge, 2017.