Wednesday 12th and Thursday 13th June, Derek Jarman Lab
The 2019 Essay Film Form and Animation: Intersectionality in Motion conference held in London last June was well attended. The conference was supported by the Arts University Bournemouth, the Society for Animation Studies, The British Association of Film, Television and Screen Studies, CAPA Global Education Network, and the Derek Jarman Lab. Professor Paul Ward, Dr. Romana Turina, and Dr. Bartek Dziadosz gathered a broad range of participants, who came together to talk about various subjects that arose from the ideas of intersectionality, animation documentary, and the essay film. Delegates came from across the world to present and discuss the work at the center of their research and practice.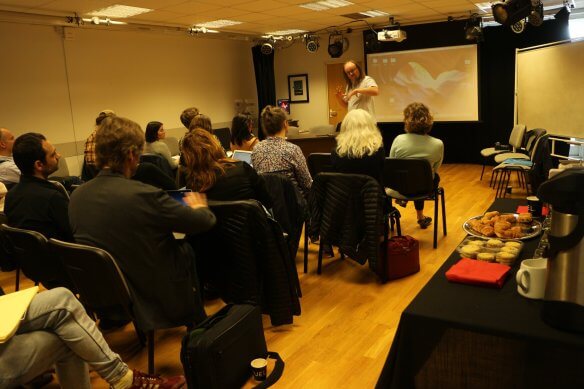 The papers presented span a broad range of subjects and included some particularly thought-provoking and insightful ways of working and developing research when using a biographical and ethnographic stance. Some of the highlights included a presentation by Susan Young from the Royal College of Art, London. Her paper, titled 'Using Animated Autoethnography to Resist and Reframe Psychiatric Othering and Iatrogenic Harm,' was a thoroughly enthralling personal account into her relationship with mental health and the health care providers that were put in place to help. Her work, that is highly autoethnographic, had a great visual and ethical depth that brought together aspects of both the essay film concept and social research. Another particularly interesting paper was Sally Pearce (Wolverhampton University)'s 'Subversively Claustrophobic Spaces in Woman's Animated Autobiography,' that discussed the spaces in which women in animated films live and fill with their bodies. This paper densely described the subject within the parameters of the documentary film genre. Pearce used a broad range of examples to emphasize the autobiographical, often claustrophobic and intersectional aspects that are prominently visualized within the physical and imagined spaces of female lead films.
Faiyaz Jafri (Parsons School of Design and Queens College) began by presenting his film This Ain't Disneyland (2015) which documents his firsthand account of the 9/11 terrorist attack. His paper 'The Illusion of Destruction' discussed the event, his approach to the film and the end of Postmodernism. This paper gave another dynamic to the discussion of essay films by presenting the film alongside the analysis and theoretical framework of its creation, it enacted the idea that an essay is in itself a discussion on a topic – in this case, destruction and postmodernism, with a very specific meaning to its creator but a certain amount of critical evaluation and open-endedness for the audience.
Samantha Langsdale (University of North Texas)'s paper, 'You are like me: Intersectionality Strengths and Weaknesses in Spider-Man: Into the Spider-Verse (2018),' applied the writing and discussion of intersectionality to the 2018 film Spider-Man: Into the Spider-Verse in which the main character is a young Afro-Latino male. This led to an open-ended discussion about whether intersectionality and commercial film production can work together, or by definition are unable to be perceived as genuine or sincere attempts to better understand and represent marginalized people.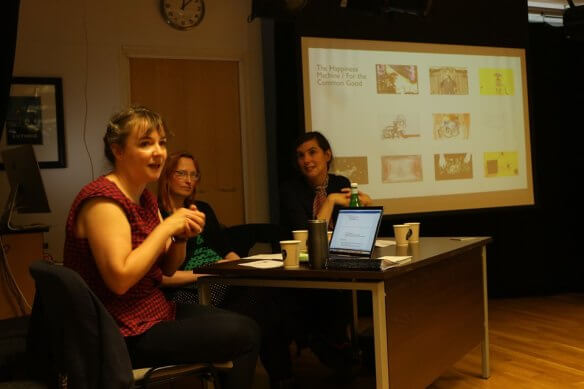 There were also more unique events that included a talk from filmmakers Lizzie Hobbs and Samantha Moore, as well as producer Abigail Addison, whose new project The Happiness Machine was commissioned to illustrate, elucidate and highlight 'The Common Good' economic model. The films were unique and offered very different takes on the subject matter, potentially showing the use of essay films and animated documentaries.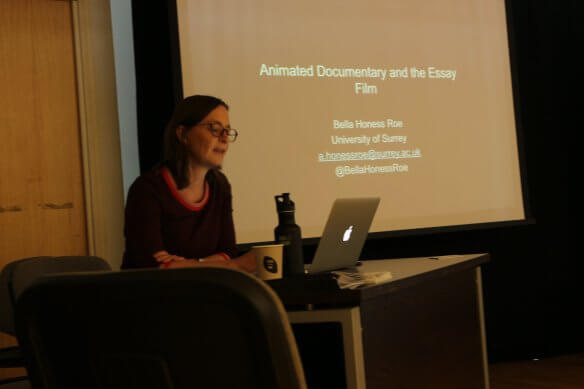 The keynote was provided by a highly respected authority on animated documentary, Annabelle Honess Roe. Her talk drew links between animation and the essay film as well as the difficulty of defining and separating the two fields of essay and documentary filmmaking. Andy Holden presented his new essay film Laws of Motion in a Cartoon Landscape (2018), which was discussed during a roundtable chaired by Bartek Dziadosz from Derek Jarman Lab.
Offering a varied range of takes on what an essay film actually is, should and could be, the conference brought to the light how the essay film raises much debate when presented alongside animation and animated documentary as it seems hard to decipher the differences, since much of what would make a film an essay film is intrinsically linked to animated documentary. This, in turn, prompted a lively debate about whether or not essay films work within the context of animation documentary or if, by definition, the animated documentary is (and surpasses, to a certain degree) an essay film. The clear overlap of all these subjects made for a rich source of discussion, with two days proving not to be enough. While more discussion would be valuable in the future, the keynotes and talks opened yet more definitions, consideration and potential avenues for exploration. The conference showed that this form has great potential for rafting the difficult interplay between both practice and academia, between makers and thinkers. The essay structure, much like a documentary (if indeed they are separate things), is a great companion to the animation academic's arsenal, providing a clear union even if its definition is not yet clear in itself.
What I found particularly interesting was this link between practice and the written or theoretical framework around the films. This struck me as the defining nature of what would or could be defined as an essay film, an open, multiple positioned film about a subject. However, this theoretical framework and the idea of both being passionate in our exploration of a subject whilst not fully stating our position seems to be the potential difference between essay and documentary. It would seem that a documentary film may at least be partly essay and an essay film is often similar to documentary, but perhaps it is the idea of 'may,' 'can,' 'often,' and 'potentially' that allows the essay film to straddle a position between fiction and nonfiction, biographic and ethnographic, taking the definition back to the word 'essay' itself, which is a piece of writing. The essay film can be musing on a subject and does not require the defining features a documentary may need. Yet, similarly to documentaries, which seems to deal with certainty and facts, essay films can reveal unexplored information but can also be less-defined and more fluid. These elements can be found in the films Lunch with Family (2016) and San Sabba (2016) by Turina, who has been the driving force behind the organization of this conference.
The papers presented have had the merit of reframing and opening up the categorization of films while giving new scope to both the fields of animation and essay film. Also, there were films presented during the conference that offered unique approaches to engaging with methodology in a creative or practice-led research process.
---
Laura-Beth Cowley is a practice-based Ph.D. researcher in the Centre for Fine Art Print at the University of West England, Bristol. Her research is looking into the use of 3D printing in stop-motion animation. As a freelance animator, model maker and independent filmmaker, she created short films that have been screened globally and has worked on commercial projects for various studios. Laura has also been the featured writer for Skwigly online animation magazine for the last five years and has written for various online and printed magazines and journals.