Food represents the culture and identity of a society, region or country and its depiction within an audio-visual work allows creating a connection with the audiences of those regions, as well as those who love to try these cuisines. Today, however, food is not just getting animated at various levels but it is also actively used to make animation films, short films, and animated works. An example in this sense is the work of the Indian animation studio Vaibhav Studios which was founded in the year 2003 in Mumbai, India. The studio is involved in creating television commercials, episodic series, public service announcements, TV channel idents, music videos, shorts and feature-length films. We work in all animation mediums including traditional 2D, stop motion, puppet, cut-out, 3D CGI, as well as mixed media. The studio has produced some of India's most successful and popular animated films and characters and is undoubtedly contemporary India's favourite animation studio. The most popular titles the studio created is Vodafone Zoozoo series ( 2019) & Lamput ( 2018) for Cartoon Network-India.
The ident has various animated shorts for a series Nick Ident from 2019, such as Nick Ident-Idli song (Vaibhav Kumaresh, 2018) and Nick Ident-Rap song (Dapun Rai Dewan & Ajit Aher, 2020) representing special Indian food from different states and regions using stop motion techniques. In particular, the studio created many series where food is the central character and that sound-wise combines local accents, folksongs and music to better foreground the identity of the region of which that food is typical. In this post, I would thus like to discuss two shorts from this studio that best represent local Indian food: Mumbai's Vada Pav vs. Samosa and South Indian popular Idli in rap song as a short music video from Nick ident.
Nick Ident-Rap. The short narrates the dominance and self-identity of Vadapav and Samosa in Mumbaikar's life that are competing with each other in a rap song advocating their qualities in claiming they are the best (see Figure 1). This is a fantastic self-identity rap clash between Vada Pav and Samosa, a famous snack for any Indians when they think for a quick bite. Both of these characters assume the roles of rappers, supported by a talented team, showcasing graceful movements and expressive gestures in a meticulously choreographed performance. The short used the real food Vada Pav and Samosa, which were animated using strings. In the post-production phase, the eyes and a mouth were digitally added with sync audio, which makes them full-fledged animated characters representing the city of Mumbai. And the dialogue that they mouth one can connect very closely to. Employing real Vada Pav and Samosa allowed for creating a more realistic connection. However, this realism is balanced by the exaggerated expression opted for, obtaining a blend of real and unreal. One could have used just 3D digital animation, but the result, I believe, would have not been as original. Indeed, due to how it was made, this ident shorts series ends up offering a true example of animation in the sense of giving life to non-living things. The concept of anthropomorphism in animation (Wells, 2009) for food is very beautifully depicted in the ident through movements, expressions and the act which portray identical and strong personalities for each character in the animated performance. The makers carefully worked on the aural world of these shorts to enhance the mood, atmosphere, and/or tone to make it immersive for the audience. The sound design clearly makes its presence by proving how important the role of audio plays in the film viewing experience. The Vadapav vs. Samsosa lyrics is by The Bliss and Dapun Rai Dewan, the music and sound design are by Roto Shah, the lead voices are by Vaibhav Kumaresh, and the chorus is by Dapun Rai Dewan and Roto Shah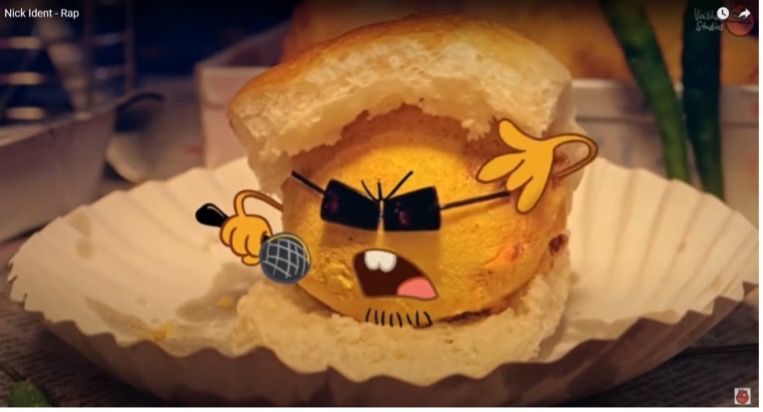 Nick Ident-Idli Song. The main idea behind this concept is to showcase animated characters engaging in dance and performance while delighting in their beloved South Indian dishes (see Figure 2). The focus is on highlighting the distinctive and genuine qualities of the food. The concept aims to communicate the message of embracing true individuality and coexistence through the characters and their identification with the food they enjoy. The second short in this series is Idli Song. Idli is a popular breakfast and the true identity of any South Indian. In this ident, you will not only see idli, but many more food items as characters clash with the classical South Indian background score. The short represents coconut, banana, Medu Vada, banana chips and so on to offer a portrayal of the typical South Indian environment, with all the essence of flavours, expressions and movements again as a beautiful representation of anthropomorphism in food, with the originally composed South Indian music that has south Indian drums Kanjira and Shehnai, known as Nadhaswaram, along with Indian percussions. Again, the sound designer was made by Roto Shah and his team who did wonderful sound design work to establish a South India region of Tamil Nadu using the soundscape. The animated performance, accompanied by carefully crafted sound design, greatly uplifts the spirit of South India and creates a captivating ambience.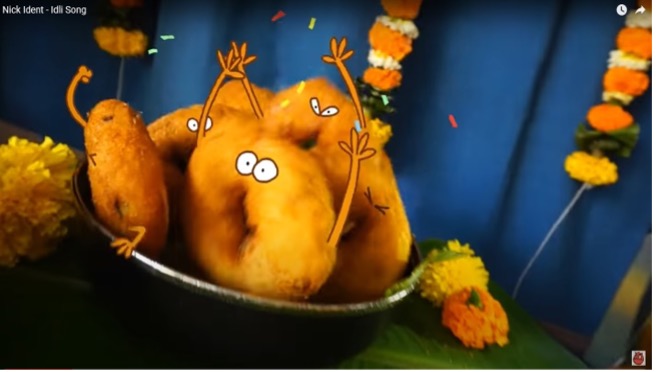 In conclusion, in both the Nick ident of Vadapav vs. Samosa and Idli Rap Song animated performances in food, the creative filmmakers have elevated Indian culture to new heights by incorporating it through the portrayal of onscreen characteristics and identity into productions. It goes beyond merely satisfying the palate with flavours, taste, and stomach-filling experiences. Instead, it explores the flavours of the animation genre, the taste in visually stunning imagery, and the satisfaction derived from creativity and innovation.
---
References
Wells, Paul. The Animated Bestiary: Animals, Cartoons, and Culture (Rutgers University Press, 2009).
---
Prof. Binoj V John is Head of Animation Design at the Institute of Design at MIT Art, Design and Technology University in Pune, India. He has a diverse background; a textile technologist, a graduate in arts, advanced diploma in Animation and Computer Arts. His professional career spans more than 20 years in industry and in academia. He has worked on, as well as guided students in, 80-odd animation films for both clients and academia. A number of these have received awards and appreciation in many international and national film festivals along with public screening. Working on films on various mediums made him experienced in managing animation films, processes and techniques and multimedia projects from their conception to completion with an emphasis on aspects of pre-n-post production. In addition, he has worked on various installations and presentations for convocations, festivals and seminars. Prior to joining MIT Institute of Design, and he also worked as a Sr. UX designer for various noted clients; Qualcomm, Apple etc. His Key strengths in animation lie in story-telling and story writing, stop motion, experimental and contemporary animations, editing, sound design, pre-production and post-production of film, technical sound on various software, VFX, sound, CG graphics & graphics and user interface and game design.
---