Knitting and crocheting have always been activities strongly connected to women, understood as a part of their housekeeping duties and everyday chores. But recently, this traditional craft has started to be viewed differently. More and more contemporary (mostly female) artists are choosing these types of traditional techniques to confront the audience with their expectations, provoke them or just widen the horizons of their imagination and acceptance.[1]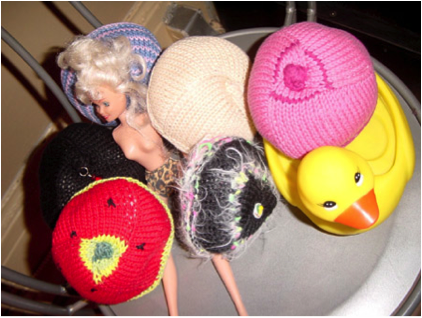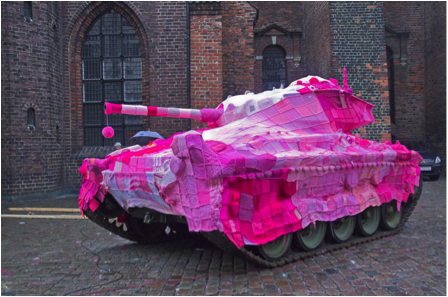 Independent female animators are similarly embracing textile handicrafts. "From very early on I have been cast as a feminist. It has become a kind of straightjacket that got rather tight. So I figured I might as well do something that was really consequential on this kind of labeling and go all the way," remembers Vera Neubauer, an independent British animator with Czechoslovak origins. "I decided to make my next film with women's means, really in a very female way. For hundreds of years knitting was the only artistic expression women had, it was the only creativity they were allowed. They were telling stories during winter months while they were knitting jumpers and socks. So I decided to use knitting as a technique to make The Last Circus. "[2]
The Last Circus comprises a series of fairy tale characters and scenes – the enchanted Frog King, Wolf and Little Red Riding Hood, Cinderella's shoes, etc. – which are incorporated into a new context to tell the life story of the dying main character, Godiva.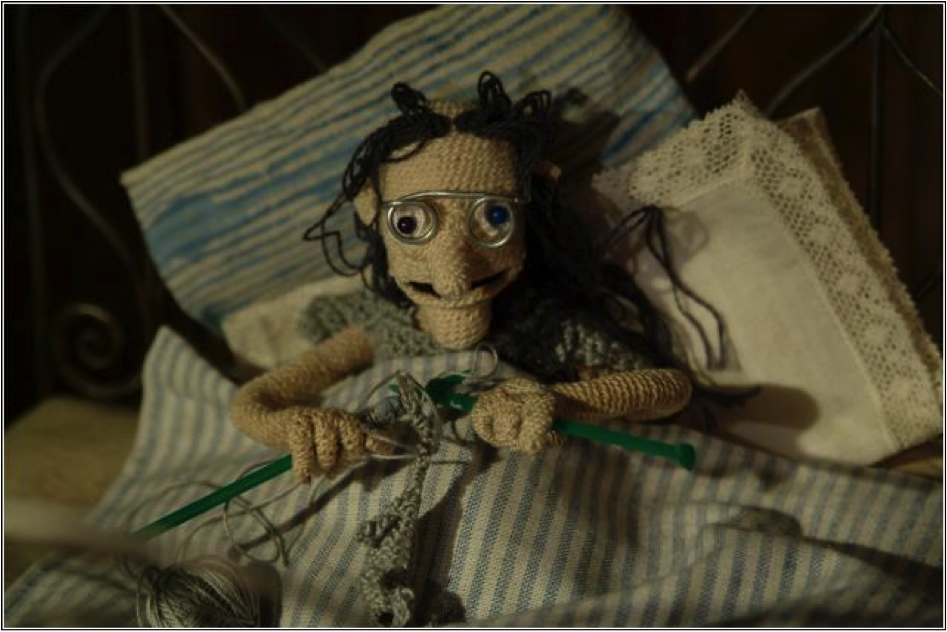 Crochet was a perfect choice for such a highly symbolic storytelling, which also plays with gender stereotypes. As another influential British independent animator and also a former psychologist Ruth Lingford noticed herself: "Knitting and crochet are traditionally female crafts and Neubauer subverts them to tell women' stories. This is the trick that animation so often plays on us – it beckons us in, leading us to expect safety, comfort and pleasure then takes advantages of our wide open mental state to present uncomfortable truth."[3] Neubauer isn't shy to crochet provoking scenes full of menstrual blood, or intestines being thrown into a bucket during a symbolic surgical scene. But she also plays with the traditional conception of handicraft as something sweet, warm and harmless when she jokingly crochets a famous end scene from Casablanca as watched by Godiva on TV.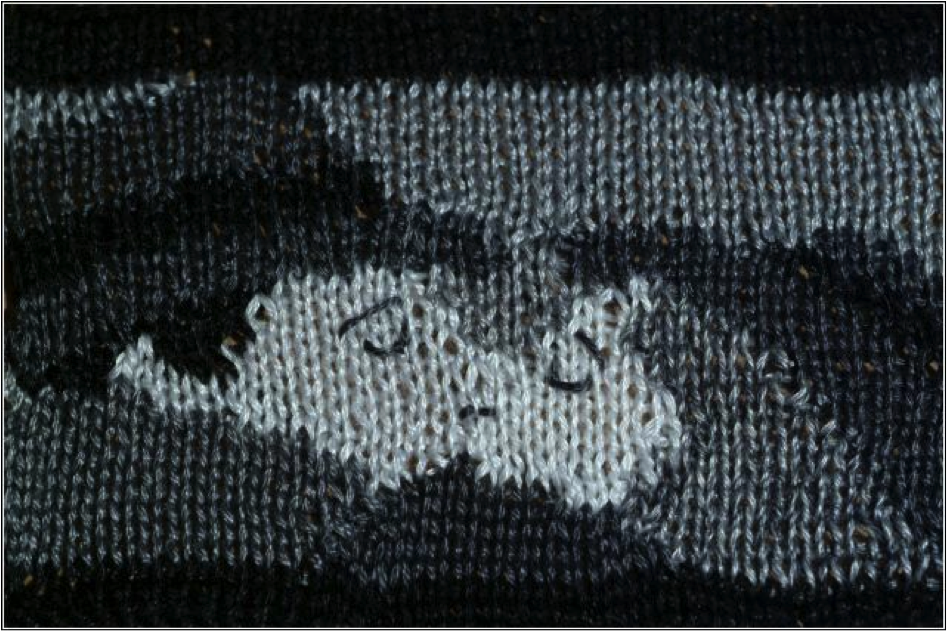 Neubauer also explained (in an interview published in connection with the premiere of her Best of Vera Neubauer DVD collection produced by the Tricky Women festival in Vienna) her approach to fairy tales: "I have used the fairy tales because like knitting, like the circus and like animation all are unrecognized art forms previously relegated only to children "[4] She likes to turn traditional fairy tales upside down, especially from a gender point of view. In her previous film Wooly Wolf (2001), she changes the plotline of "Little Red Riding Hood" in a surprising way: when the wolf starts annoying the main character in the forest, she decides to eat him alive, and then, together with her grandma, save the previously eaten little sheep. A male character is no longer necessary to do the job saving of saving the others.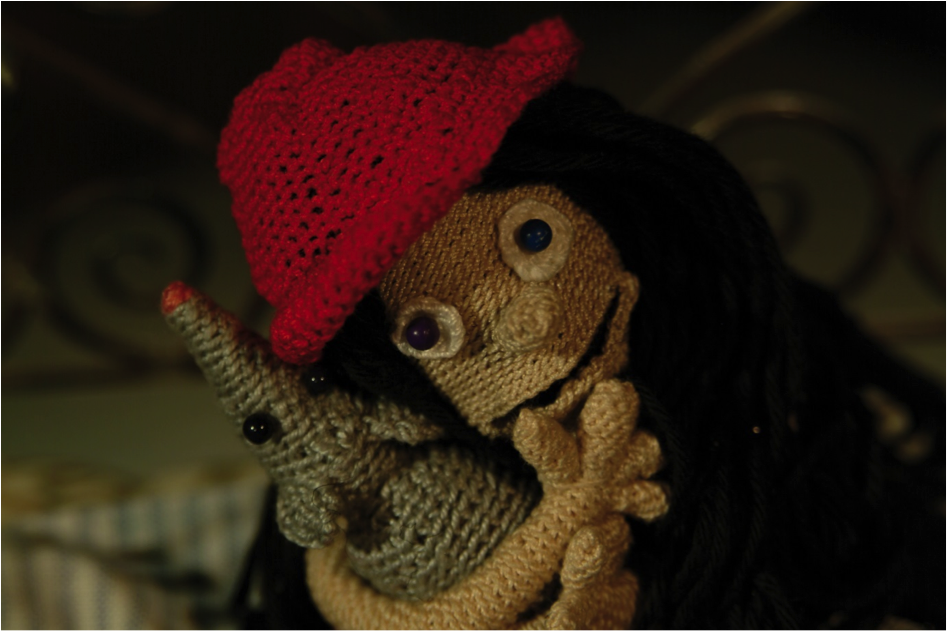 Vera Neubauer isn't the only independent animator using the knitting and crochet in a new ideological or political way, however. Sarah Cox, another British independent animator, created an original short animated clip for the ecological concert – campaign Live Earth in 2007. "Don't let it all unravel" uses the knitting technique itself to symbolically illustrate the dangers of global warming, and how quickly it can unravel our delicate ecosystem.[5]
Knitting or crochet can no longer be considered to be soft and warm and innocent. When you see next time a knitting women with a ball of wool in her lap at your local café, don't be surprised if she turns out to be a new and upcoming conceptual artist.
[1] For example the Canadian artist and handcrafter Beryl Tsang came with the idea of knitting her own tit after her breast cancer and following mastectomy procedure. "I went to every mastectomy boutique and medical supply store in the city. There were titties of every shape, size and skin color (from beige to dark brown) but none were what I wanted — perky, cute and comfortable. They were too heavy, squishy or ugly. To cheer myself up, I rummaged through my stash looking for something luxurious to knit up. Then it hit me that I could knit myself a new titty; in fact, I had so much yarn I could knit myself a different titty for every day of the week, month, year," explains Tsang on her website http://knitty.com/ISSUEfall05/PATTbits.html. Another Danish artist Marianne Joergensen chose to knit all over an old tank in order to protest against the involvement of her government in the Iraq war in 2006. http://www.marianneart.dk/
[2] Maša Ogrizek, Don't be Afraid of Freedom: Interview with Vera Neubauer, In: Brigitt Wagner – Waltraud Grausgruber (eds.), Tricky Women AnimationsfilmKunst von Frauen. Marburg: Schüren 2011, p.65.
[3] Ruth Lingford, Vera Neubauer: Soft Toys, Rough Treatment, In: Brigitt Wagner – Waltraud Grausgruber (eds.), Tricky Women AnimationsfilmKunst von Frauen. Marburg: Schüren 2011, p. 48.
[4] Maša Ogrizek, Don't be Afraid of Freedom: Interview with Vera Neubauer, In: Brigitt Wagner – Waltraud Grausgruber (eds.), Tricky Women AnimationsfilmKunst von Frauen. Marburg: Schüren 2011, p. 66.
Eliska Decka is a first year Ph.D. student at Film and TV School of Academy of Performing Arts (FAMU) in Prague. With her academic past including MA from a Film Studies Department, Faculty of Arts, and MA from a Law Faculty, Charles University in Prague, she focuses with her research and publication activities on the connection between animation theory and practice, with especial interest in gender issues and the social influences on animation and vice versa.  She teaches film theory and history at J. A. Komensky University in Prague, publishes in various Czech and international cultural journals and compendiums and collaborates as a dramaturgist with a Czech Festival of Film Animation Olomouc.