In 1949 Oskar Fischinger's film Motion Painting No. I (1947) was awarded the Grand Prix du Film Expérimental at the Festival international du cinéma expérimental in Knokke-le-Zoute, Belgium. Conceived by Jacque Ledoux, the festival was organized by the Cinématheque Royale de Belgique and held only five times, beginning in 1949. This is often acknowledged as the first festival for experimental film. Other animation screened at that first festival included the Whitney Brothers, who received an award for sound.
Film critic René Micha was a member of the original programming team working with Ledoux. In Fischinger's papers I've discovered several drafts and what appears to be a completed letter to Micha, composed by Fischinger after receiving the news of his award. Excerpts follow.
Excerpt from 1949 letter from Oskar Fischinger to René Micha:
About the word experimental.
First it is nothing but a word and all words mean the same. My own feeling about that word is somehow mixed with hesitation. It is something of a stumbling block – frankly I did not like it too much. I tried hard to avoid it whenever possible. I would rather prefer the expression Avantgarde-film.
My very early films from 1919 til 1928 I used to call Experiments – Then after I found that most simple, most concentrated Technic [sic] as used in the Studies – from then on I called my films Studies – Later with the coming of the Color into the films a new searching for a simplified technik began which resulted in Motion Painting No. I. For this film the world Experimental is not a very fitting expression. definitely not….
If one searches for a Method or technic of expression he may be still experimenting.
If one has established a way to doing then he may Studie the application of it.
If the technical difficulties are overcome and the Studies had led to a point where techic can be forgotten and the more essential things of Art-creation Art revelation the listing of the Voice of the unknown becomes important than one is out of the field of experimentation and one becomes whatever one may call such creative artist like composers – painters, sculptors etc..
…Van Gogh did not paint experiments. Neither did Beethoven write Experimental Symphonies….
Besides that word experiment has that nasty meaning of testing and fooling around with a million things like crossing cats with rabbits and lemons with potatoes, etc. etc…ad infinitum…
(end excerpt)
In a draft titled "About the word Experimental," Fischinger notes,
I believe Motion Painting No. I actual [sic] did outgrow the state or period of Being either an Experimental work nor a Studie. It also is not a composition. So what could it be –
So lets see why one of the great works of art by Van Gogh is not an experiment nor a studie but just a painting.
After the warring stage of Experimenting is over and the time for Studie is past, the time arrives where Technik can be forgotten – – the knowledge about application is there – now the movement or the time arrives [where] the artist begins to relax looses himself into something much bigger much greater than he ever could be – He begins to listen to an inner voice and the work follows an inner dictation or a higher dictation. Above all moods there is a CREATIVE NECESSITY, an inner Law. Fleeting moods express feelings of short moments waves move not up or down but waves are only departures from the middle lines the real peaceful line of clear undisturbed total round all pervading full presents [presence] consciousness –   (Oskar Fischinger, 1949)
Documents from the Fischinger Collection at Center for Visual Music, Los Angeles (c) Fischinger Trust.   www.centerforvisualmusic.org
Further resources:
Oskar Fischinger research site:  www.centerforvisualmusic.org/Fischinger
Some of Fischinger's statements on his film Motion Painting No. I were published in Moritz, William. Optical Poetry: The Life and Work of Oskar Fischinger (Libbey, 2004), p. 184-188.
Film notes by Fischinger at the CVM Research site, www.centerforvisualmusic.org/Fischinger/OFFilmnotes.htm
Motion Painting No. I (1947, color, sound, 11 minutes, US) can be viewed on the Oskar Fischinger: Ten Films DVD (Center for Visual Music, 2006). 35mm film prints are available for rental through CVM, Los Angeles or Light Cone, Paris. The original format of this film is 35mm. The 16mm rental prints in existence are reduction prints made by Elfriede Fischinger and William Moritz decades ago, with non-original recordings substituted for the soundtrack.
Some of Fischinger's Studies can be viewed online at CVM's Vimeo Channel (both VOD and free excerpts):
https://vimeo.com/album/3111432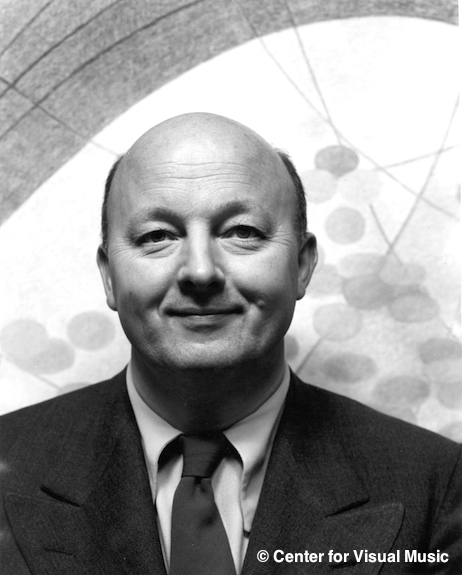 Images courtesy Center for Visual Music
Cindy Keefer is an archivist and curator, and director of Center for Visual Music in Los Angeles. She curates and presents film and media programs at museums, festivals and archives worldwide, recently at Tate Modern, LACMA, Whitney Museum, Hammer Museum, Harvard Film Archive and others. She publishes on Oskar Fischinger, Jordan Belson, Visual Music and experimental animation, and is the co-editor of Oskar Fischinger (1900-1967): Experiments in Cinematic Abstraction (2013). As Adjunct Faculty, Keefer taught the History of Experimental Animation at Cal Arts, and has served a Guest Lecturer at  ZKM, Oxford, Goldsmiths, Trinity College Dublin, NYU, Cal Arts, USC, UCSB, and numerous other venues worldwide. She restored and curated Oskar Fischinger: Raumlichtkunst, a 3 screen HD installation exhibited at Tate Modern, the Whitney Museum and Palais de Tokyo, Paris.
Keefer has preserved dozens of short films by artists including Fischinger, Belson, Jules Engel, John and James Whitney, Charles Dockum, Harry Smith, Mary Ellen Bute, Harry Smith, Jud Yalkut, John Cage and others, and produced the Fischinger and Belson DVD releases. She has worked with The Fischinger Estate since 1997, and is a member of SAS and the Association of Moving Image Archivists (former Chair of its Access Committee).  Keefer holds a degree in Film from New York University, and is currently writing a book on Jordan Belson and The Vortex Concerts.