How can archivists, academics and practitioners collaborate to promote and make animation archives easily accessible through workshops, cataloguing, and displaying data? Knowledge is vital in terms of looking after vulnerable media, communicating on what material should be kept for permanent preservation, cataloguing standards and information.
The University for the Creative Arts (campuses in Surrey and Kent), looks after animation archives in Farnham, including the Bob Godfrey archive, Britain's first Oscar winning animator, and records donated by Daniel Greaves, Director of Tandem Films. Records consist of draft scripts, correspondence, research material, photographs, a personal libraries, acetate cels, sound reels, cassette tapes, and VHS. In terms of collaboration and understanding how academics may use archives on a local level, at the university, I have worked with the librarian and Computer Animation Arts lecturer. This was intended to introduce students to the archives, and look at how art archives can be used to inspire artistic use (a case study featured in the Arts Libraries Journal, 2014, volume 39, number 4).
This was important in terms of also learning regarding key subject terms of interest to academics and students. (Blogs we produce look at themes our students study).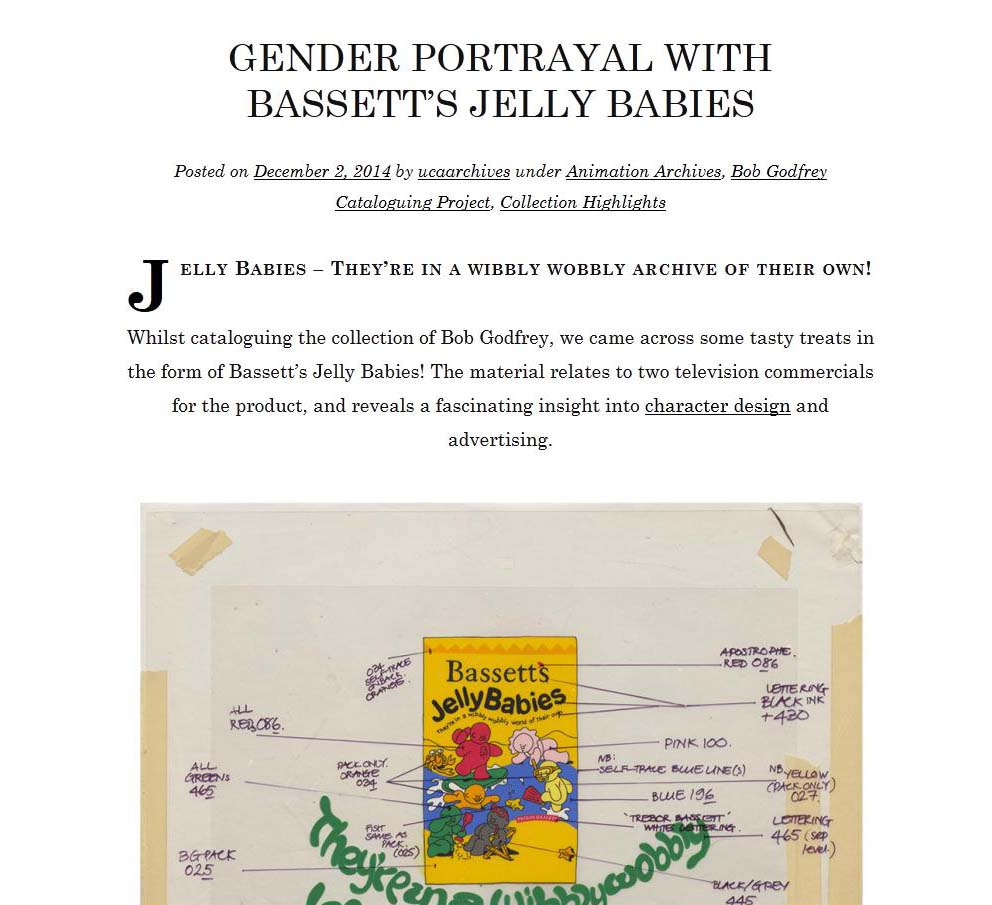 Catalogues can be subjective in terms of what material is included, and what is counted as having import. The Collections trust has a toolkit on 'Revisiting Archival Collections', with suggested questions, which you can use to hold workshops, events, to record different people's responses to records. I have developed questions for case studies on how academics interact with animation archives- use, the perceptions of access, and insights that animation archives can specifically produce. Questions have been put towards two Phd researchers, one from Loughborough University, UK, and to Sonia Friel, who was then based at the Norwich University of Arts, Phd animation and art history. Some responses suggesting why animation archives are particularly so interesting are that they collate much mixed media, and that more traditional media, is still being used today. Issues include gaining access, particularly if they are in private hands.
Collections that are in private estates, or are held within businesses, without a dedicated archivist, may also be vulnerable to degradation. The British Library's 'Save Our Sounds' campaign is dedicated to saving the nation's sound heritage, and a campaign to map and advise on looking after animation archives within the UK and beyond is equally necessary, especially in terms of vulnerable media, and born digital.
After mapping our animation archives, how do we best display and promote the wider range of animation archives throughout the world? Infographics (held on a website) are useful for displaying data in visual formats (see infographic of Bassett's jelly babies sweets produced by Collections Officer, Helen Blomfield), and can also be used to see how different animation archives link – a map highlighting areas where animation archives exist, data highlighting how animators that may feature within different collections link together.

Collaboration is vital for research, accessibility, and for determining our archives survival.
Rebekah Taylor
Archivist and Special Collections Officer
http://community.ucreative.ac.uk/archives
http://www.research.ucreative.ac.uk/profile/1568