Escapist animation aimed at both children and adults tends to bracket out "dull moments" for the sake of narrative efficiency.
Sometimes, escaping from monotony becomes the subject of lengthy animated sequences, especially in works like the Wallace and Gromit shorts, whose titular character fabricates complicated gadgets to relieve himself of even the most trivial manual labour, often with unintended comic consequences. Animation is the world of fantastical time-saving gadgets, which are both visually fascinating and appealing to audiences whose lives are largely dedicated to monotonous labour.
But animation is also an ideal format for depicting tedium, using dramatic visuals to present alienating work in ironic, satirical, and humorous ways. Popular American examples of showing workplace tedium include the Disney short film Paperman and key scenes of Brad Bird's Pixar superhero film The Incredibles. In both of them, the fantastic narrative of each film invades the workplace, making it impossible for the protagonists to tolerate their meaningless jobs. Both the paper airplane tosser in Paperman and Mr. Incredible are only temporarily trapped, and miraculous and unexpected events elevate their lives out of monotony and into love and derring-do, respectively.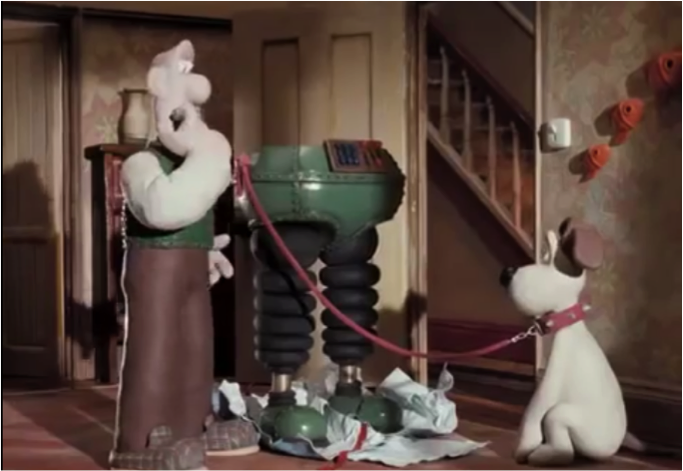 Both of these films frame these drab scenes within a larger and more exciting narrative, so they depict and animate these office scenes as low points in their characters' lives, sapping their true potential. They do not show the extent of animation's ability to depict tedium in expressive ways, however, because they regard the tedium as mere setup to and contrast with the extraordinary "reality" lying just outside the cubicle walls and faceless buildings.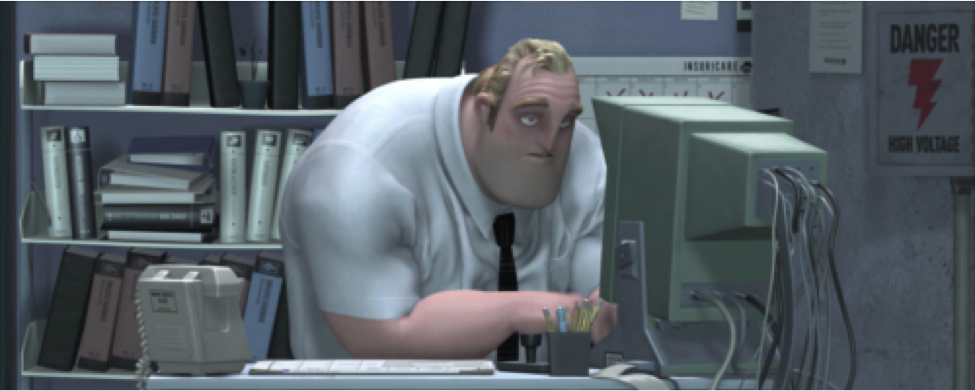 By contrast, Soviet animator Fyodor Khitruk's 1962 experimental film The Man in the Frame directly satirizes the exhausting banality of office life and white-collar hierarchy. Depicting the life of a company ladder-climber who lives his entire life within a picture frame that reminds the viewer of those employee-of-the-month-award displays, the film uses a highly iconic style to add kinetic energy to a fairly static story. Khitruk does include a semi-fantastical "exterior' to the lined-and-gridded world of the office, but he expresses it with "live" photographs, a visual language so radically alien to the one inhabited by our protagonist that it remains unattainable. Once locked inside his frame, the protagonist stays there, his work changing only when he starts giving rather than taking orders, stamping instead of just passing papers.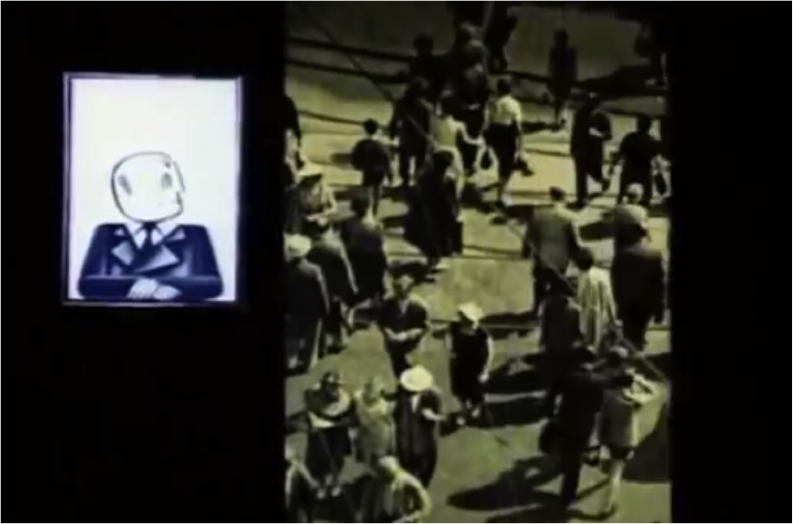 "Adult" animation, because it is attempting to cultivate an older audience, often distinguishes itself by delving into zones of life that are taboo in children's entertainment. Generally this means sex, violence, drugs, political content, etc. But one powerful way that animation can communicate truths to adults is by, somewhat paradoxically, using the absolute freedom-in-artifice characteristic of the form to investigate repetitive tasks, boring jobs, and the daily grind. It can lend an expressive voice of protest to the chorus of complaints about the drudgery of modern life and the ways that technology has not liberated our minds but merely trivialized our bodies.
Evelyn Hielkema is a masters student at York University studying Japanese maritime environmental history. Her professional studies encompass the history of disease, global commodity and information flows, energy production, ecology, and the tangled thicket of state bureaucracy. Her one proper presentation was of "Panel Geographies," a bizarre amalgam of media critique and political economy illuminating the relationship between American comics and the Middle East. To cap off her undergraduate career, she wrote an in-depth study of an American bureaucrat working in Iran during the 1911 Constitutional Revolution. In her spare time, she publishes the Tiger Manifesto blog at tigermanifesto.wordpress.com, reflecting on everything from Marxism to Christian kitsch.