Review of Rayna Denison (ed.). Princess Mononoke: Understanding Studio Ghibli's Monster Princess, New York/London: Bloomsbury, 2018.
In March 2000, during a visit to the cinema, I chanced upon a mysterious poster design featuring a golden medallion embossed with the image of a female warrior (see fig. 2). Since then, Mononoke-hime (Princess Mononoke, 1997) has resonated in my mind. Compelling, intricate, astonishingly beautiful, with many layers of meaning, it is one of the most important works in the history of Japanese cinema. A game-changer, the film opened the doors to international success and recognition for the production house Studio Ghibli, and in particular for writer and director Hayao Miyazaki.
Twenty years after its theatrical debut in Japan, in the summer of 1997, British scholar Rayna Denison accepted the task of editing a book which would consider the importance and key features of the film. The ambitiously-titled Princess Mononoke: Understanding Studio Ghibli's Monster Princess, now published by Bloomsbury, promises a better, far broader appreciation of Miyazaki's seventh animated feature than has been attempted to date.
Denison has divided the monograph into three main sections, each of which is subdivided into three chapters. After a brilliant and concise summary of the context and significance of the film's production – raising questions around creative freedom, Studio Ghibli's innovations and the Japanese marketing campaign – the book begins by exploring the political and environmental themes which shaped the narrative. The second section looks closely at the film's female characters and considers the feminist qualities of Miyazaki's work, while the third segment explores the reception of the film transnationally.
Despite this clear framework, it is surprising to find a more generous consideration of certain aspects of Princess Mononoke lacking. For example, among the issues not tackled are: the way in which Japanese history is rewritten by Miyazaki; or how fundamental oral literature is to the film – especially the one connected with the traditions of the Tatara – as well as ancient folklore[i]; the fact that Miyazaki set the film during the Muromachi period, to coincide with the beginning of deforestation in Japan[ii]; or even the mistake in the English translation which leads Western viewers to believe that the character of Kaya is Ashitaka's sister when she is in fact his fiancée – as Miyazaki confirmed in the documentary This is How 'Princess Mononoke' was Born. Of course, it would be difficult to address every historical and thematic aspect of the film in a single volume and, despite these notable oversights, the final work is solid and concise.
Each successive chapter within the individual sections provides further insight into the topics explored, leaving the reader with a thorough overview. Three chapters in particular stand out as emblematic of their respective sections. Shiro Yoshioka presents a powerful analysis of the way in which Princess Mononoke marks a shift in Miyazaki's work, away from the more lowbrow, popular culture approach of his earlier works, towards making 'substantial films', examining political and environmental issues that were coming to the fore in the 1990s. In addition, Yoshioka explores how the filmmaker aligned his own intellectual discourse with those of thinkers such as Yoshihiko Amino, Takeshi Umehara, Ryōtarō Shiba and Yoshie Hotta, becoming a bunkajin (a man of culture). Although Yoshioka refers to the impact of evergreen forest culture theory, he fails to mention the research of Sasuke Nakao[iii], which had a fundamental influence on Miyazaki's intellectual turn. Nevertheless, the value and interest of Yoshioka's research is clear, drawing attention as it does to other key factors, such as the importance of Neon Genesis Evangelion in connection with the reception of Princess Mononoke.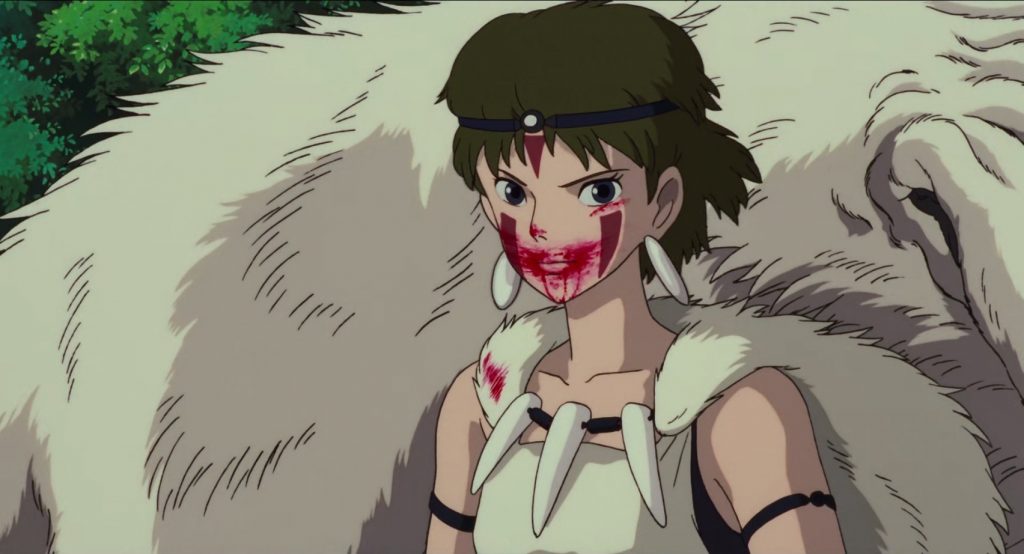 In the second section, Helen McCarthy contributes a provocative, illuminating and essential examination of the supposed 'feminism' in Miyazaki's oeuvre. Taking Princess Mononoke as a starting point for her poignant scrutiny of Miyazaki's portrayal of women, McCarthy reflects on the male gaze of the filmmaker and the way in which Miyazaki constructs characters who, on the surface, might seem revolutionary but in reality align with more conservative depictions of female social roles. McCarthy's captivating, precise and forceful writing challenges the public persona of Miyazaki as a feminist – an image developed largely by his producer and lifelong friend, Toshio Suzuki – to demonstrate how San is the sole female character who is truly free from social convention, and how the rest of Miyazaki's artistic career sustains a world seen through a masculine lens. She argues convincingly that "this view of feminism is at one and the same time profoundly patriarchal and profoundly socialist."
Finally, Emma Pett undertakes the titanic task of deconstructing how reviews of the film, by both professional critics and ordinary viewers, have helped over time to shape perceptions of Princess Mononoke, as well as how it is to be read. Dynamic and stimulating, Pett's chapter proposes an alternative evaluative framework, comparing professional English reviews from the time of the film's release, and the writings of citizen-critics across the years, to point out the extent to which the appreciation of Princess Mononoke has changed, from being considered negligible to gaining classic status.
Overall Princess Mononoke: Understanding Studio Ghibli's Monster Princess is a remarkable contribution to anime studies. Denison has provided exemplary editorial oversight, giving the publication a strong and balanced structure, opening up new discussions, raising new questions, and suggesting alternative approaches to an enduring masterpiece.
Laura Montero is an independent scholar based in London. She holds a Ph.D in History of Cinema from Universidad Autónoma de Madrid, and she is a member of the editorial staff of the film review magazine Fila Siete and A Cuarta Parede. Her main research interests lie in the field of East Asian Cinemas, Anime and Contemporary Japanese Cinema. She wrote the books El mundo invisible de Hayao Miyazaki [The Invisible World of Hayao Miyazaki] (Dolmen, 2012) – currently in its sixth edition – and Biblioteca Studio GHibli: La princesa Mononoke [Studio Ghibli Library: Princess Mononoke] (Héroes de Papel, 2017). For the last two years, she has participated, with Japan Foundation, in a season of lectures across Latin America around anime and Japanese cinema.
[i] Montero Plata, Laura (2017), Biblioteca Studio Ghibli: La princesa Mononoke. Seville: Héroes de Papel.
[ii] Totman, Conrad (1993), Early Modern Japan. California: University of California Press.
[iii] Nakao, Sasuke (1966), Saibai shokubutsu to nōkō no kigen. Tokyo: Iwanami Shoten.