Held at the Kodak Theatre in Los Angeles on the evening of March 24, 2002, the 74th Academy Awards heralded an important moment in the visibility of Hollywood animation. On the one hand, the ceremony marked the inaugural appearance of the Best Animated Feature Film, a new category that seemed to equally recognize and authenticate animation's status as an industrial art form within contemporary popular cinema. On the other, the 4-hour 23-minute ceremony was also significant for how it playfully integrated numerous animated characters alongside real-life presenters as part of the event's star-studded audience. As actor Nathan Lane announced the Best Animated Feature nominees Shrek (Vicky Jenson & Andrew Adamson, 2001), Monsters, Inc. (Pete Docter, 2001), and Jimmy Neutron: Boy Genius (John A. Davis, 2001), the camera cut to digital characters from each film impossibly sitting among the A-list crowd. Glimpses of James P. 'Sulley' Sullivan, Mike Wazowski, Jimmy Neutron (and his robot dog, Goddard), and a tuxedo-wearing Shrek and Donkey showed them sitting anxiously – and excitedly – as they eagerly anticipated the result of the category's very first winner.
Although the advent of digital technology and sophisticated compositing programmes has evidently made the synthesis of animation with live-action a more feasible and persuasive practice, this tradition of combining awards shows with popular animated characters does have its notable pre-digital precursors. As far back as 1932, Mickey Mouse featured in Parade of the Award Nominees (Walt Disney, 1932), a short made for the 5th Academy Awards (the same year animated cartoons were first recognized thanks to the Best Short Cartoon category), while later in 1958, Disney's Donald Duck hosted a seven-minute cartoon "History of the Movies" that was shown at that year's ceremony. Towards the end of the 1960s, another standalone animated sequence developed for the 41st Academy Awards even created the illusion that an animated Pink Panther was delivering the winning envelope to presenter Tony Curtis. However, it wasn't until the 1988 ceremony (the same year as the live-action/animation hybrid Who Framed Roger Rabbit [Robert Zemeckis, 1988]) that cel-animated characters would appear convincingly onstage and seem to (inter)act with real-life Hollywood stars. Presenting the Oscar for Best Animated Short to Frédéric Back's The Man Who Planted Trees (1987), Disney's Mickey Mouse was joined at the podium by actor and co-presenter Tom Selleck as Donald Duck, Daisy Duck and Minnie Mouse sat watching on from their front row seats.
Mickey and Donald were certainly not the only cel-animated stars from the Disney studio to benefit from increased exposure during awards season. Belle, the Beast and Chip from Beauty and the Beast (John Musker & Ron Clements, 1991) were presenters at the 64th Academy Awards in early 1992, and Snow White likewise handed over an award in 1993, humorously proclaiming: "Here I am presenting the award for Best Achievement in Animated Short Films. And as you all know, I've got more than a little experience with short subjects." Exactly a decade later, Mickey would also appear again (albeit as a three-dimensional CG puppet developed by Walt Disney Imagineering) at the Oscars in 2003 to celebrate his 75th birthday, assuming his place onstage alongside actress Jennifer Garner (Figure 1).

A number of other animated characters would also take their star turns on the Oscar stage. In 1979, Robin Williams handed an honorary statue to animator Walter Lantz, which prompted an appearance by Lantz's famous creation Woody Woodpecker. On March 30, 1987, it was actor Tom Hanks who would team up with a recognizable animated star, joining Bugs Bunny to present the Oscar for Best Animated Short Film to Belgian cartoon A Greek Tragedy (Linda Van Tulden & Willem Thijssen, 1985). Three years later, Bugs would appear again when presenters John Candy and Rick Moranis introduced a sequence that had the Warner Bros. cartoon star announcing the nominees for Best Animated Short Film. A year after that, Woody the Woodpecker was tasked with reading the nominees at the 63rd Academy Awards (though would mistakenly read out a shopping list of "Milk, bread, apple" before hastily finding the correct piece of paper), while in 1995, Bugs Bunny made yet another appearance, this time with Daffy Duck in a short sequence directed by Darrel Van Citters at Warner Bros. Another famous animated duo, the irreverent Beavis and Butthead, would also get in on the act later in the 1990s, presenting the Oscar for Best Sound Effects in 1997 (Figure 2).

Despite this longstanding history, the combining of 'animation' with the 'Academy' has, however, notably expanded since the turn of the millennium, with a particular concentration on popular computer-animated characters in ways that often develop their ulterior personalities and, as such, contradict the characters' behavior visible across other media. Following its debut in 2002, for example, the novelty of computer-animated characters as part of the Oscars audience would re-emerge once more at the 2007 ceremony, when the CG stars of Pixar's Cars (John Lasseter, 2006), Happy Feet (George Miller, 2006) and Monster House (Gil Kenan, 2006) took their place within the audience as part of the prestigious celebrations (Figure 3).

Other cases include the insect cast of Pixar's A Bug's Life (John Lasseter, 1998) struggling with the envelope containing the winner of the Best Animated Short in 1999; at the 2000 event, Toy Story's Buzz Lightyear, Woody the Cowboy, Jessie the Cowgirl and Bullseye the horse appearing on stage to present the Best Animated Short (Mr. and Mrs. Potato Head sat in the audience having paid extra to "sit next to Gwyneth Paltrow"); fashion designer Edna Mode (from Pixar's The Incredibles [Brad Bird, 2004]) giving out the award for Best Costume Design alongside ex-James Bond actor Pierce Brosnan in 2005; the stars of Disney's Chicken Little (Mark Dindal, 2005) Chicken Little and Abby Mallard taking to the stage in 2006; and actor Mark Wahlberg and CG character Ted (voiced by Seth MacFarlane) presenting the Oscar for Sound Editing at the 85th Academy Awards in 2013.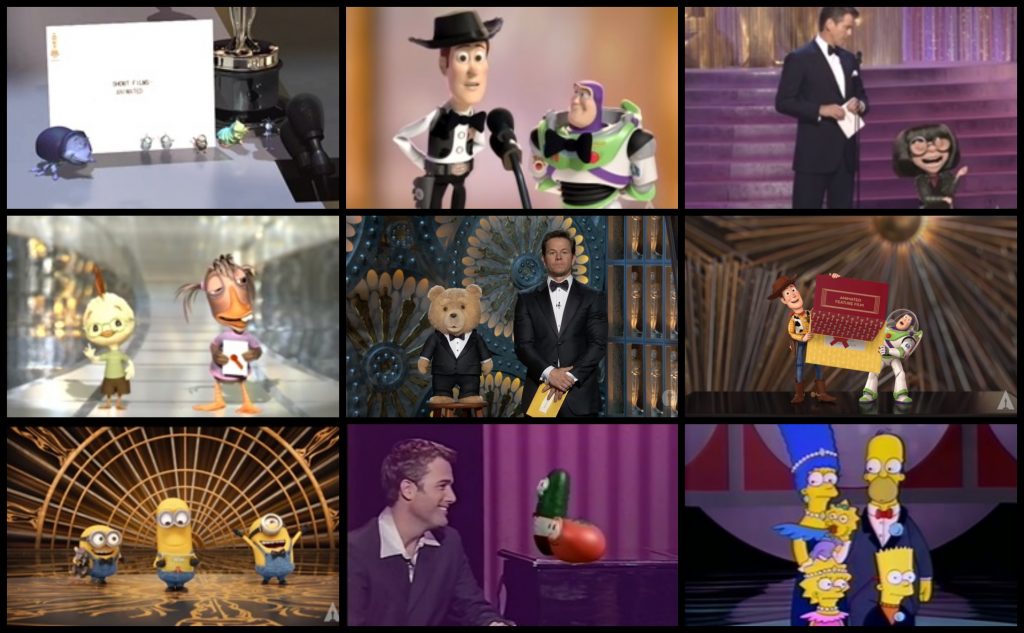 More recently in 2016, Toy Story's Woody and Buzz returned to announce the Best Animated Feature (ironically awarding the statue to their creators at Pixar for Inside Out [Pete Docter, 2015]), while at the same ceremony the Minions from Illumination's Despicable Me (2010–) franchise announced the winner of the Best Animated Short. Beyond the Oscars too, there has been an increasing fascination with the media appearances of seemingly 'real' animated performers at live awards ceremonies. The 1997 Dove Awards featured supposedly spontaneous interviews with Bob the tomato and Larry the cucumber from CG animated series VeggieTales (Phil Vischer & Mike Nawrocki, 1993–), while The Simpsons family acted as presenters at the 1990 Emmys (Figure 4) (just as Stewie and Brian Griffin from Family Guy [Seth MacFarlane, 1999–] would adopt presenting duties for the 2007 event).
Awards appearance such as these, of course, plunge the animated cartoon headlong into the discourses of coherence, illusion, sincerity, clarity, and authenticity that have traditionally supported star studies within the Hollywood model and beyond. The playful suggestion of animated characters-as-performers (falsely) acknowledges their (fictional) identity as selves rather than cels or pixels, reflexively elaborating upon their possible lives that take place behind the screen. Indeed, Williams jokingly asked Lantz onstage in 1979 whether it was true what the National Enquirer had said about Woody the Woodpecker and another character, Betty Boop, even commending the former for looking "so good after 40 years." This treatment of animated stars through the politics of the 'offscreen space' was taken even further at the 2010 Academy Awards, where the stars of the films listed in the Best Animated Feature category – Fantastic Mr. Fox (Wes Anderson, 2009), Coraline (Henry Selick, 2009), The Secret of Kells (Tomm Moore, 2009), The Princess and the Frog (John Musker & Ron Clements, 2009) and Up (Pete Doctor, 2009) – were all depicted giving interviews about their nominations, and what winning an Oscar would mean to them.
Despite the complexity of the star as an ideological symbol, the fundamentally rhetorical identity of animated stars as manufactured figures existing solely in (and for) the text does suggest a legitimacy to their starry constitution. As Paul Wells (2003: 90–102) states, the artificiality of cartoon stars (as an outcome of the medium) precludes and defines their screen (and screened) authenticity, something that David McGowan (2019) has further examined in his interrogation of the cultural circulation of silent-era animated stars. But if animated stars are stars by embodying the fullest realisation of a star's 'symbolic' capital, then their exposure seems particularly apposite when considering their co-ordinated 'public' appearances at awards shows, and what role such events play in our consumption of their exchange value within an industrial capitalist system. The visibility of film stars extends beyond the films to embrace "various forms of broadcast, print and online media" (McDonald 2013: 8). Yet as examples of what Richard Dyer would, of course, describe as a star's "secondary circulation" (1979), awards appearances represent for Paul McDonald a particular manifestation of "prestige stardom" whereby Hollywood's status as a culture industry is reflected in the "prizing" of high-profile A-list performers who are valorized through the "currency" of awards (2013: 215). But what happens when such events are staged via (or incorporate) animation in this way? The fact that awards ceremonies are themselves highly scripted extravaganzas suggest a useful affinity with the intrinsic performativity of animation. In short, both provide a relatively absurdist take on the real. As the ultimate in forced character acting, the "staid and staged" awards ceremony – that is heavily rooted in the power and potency of the star image (Kaminsky 2019: 588) – therefore provides the perfect home for animated characters to flex their actorly credentials, and in doing so gives us yet another space to think through the multimedia and performative constitution of star bodies.
Now, that's entertainment.
---
References
Dyer, Richard (1979). Stars. London: BFI Publishing.
Kaminsky, Tamara (2019). "Saving face and losing face at the Oscars." Celebrity Studies 10(4): 588–591.
McDonald, Paul (2013). Hollywood Stardom. Oxford: Wiley-Blackwell.
McGowan, David (2019). Animated Personalities Cartoon Characters and Stardom in American Theatrical Shorts. Austin: University of Texas Press.
Wells, Paul (2003). "To affinity and beyond: Woody, Buzz and the new authenticity." In Thomas Austin and Martin Barker (eds), Contemporary Hollywood Stardom, 90–102. New York: Oxford University Press.
---
Christopher Holliday teaches Film Studies and Liberal Arts at King's College London, specializing in Hollywood cinema, animation history, and contemporary digital media. He has published several book chapters and articles on digital technology and computer animation, including work in Animation Practice, Process & Production and animation: an interdisciplinary journal (where he is also Associate Editor). He is the author of The Computer-Animated Film: Industry, Style and Genre (Edinburgh University Press, 2018), and co-editor of Fantasy/Animation: Connections Between Media, Mediums and Genres (Routledge, 2018) and Snow White and the Seven Dwarfs: New Perspectives on Production, Reception, Legacy (Bloomsbury, 2021). Christopher is currently researching the relationship between identity politics and digital technologies in popular cinema, and can also be found as the curator and creator of the website/blog/podcast www.fantasy-animation.org. 
---