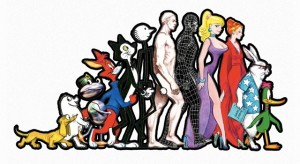 The Animator's Survival Kit by Richard Williams will be recommended to countless students beginning animation classes in the next few weeks. Cited by Paul Wells in his SAS Toronto keynote in a shortlist of texts commonly found in professional studios, The Animator's Survival Kit is what John Canemaker describes as the "bible for animators internationally" and AWN correspondent Don Perro considers "one of the must-have animation books in any animator's collection." First published in 2001 and rereleased in 2009, Williams's best-selling opus, based on the master classes he developed in the 1990s, could well be described as a canonical text for animators, alongside Frank and Ollie's Disney Animation: Illusion of Life.
Generally speaking, I'm hardly a maverick when it comes to teaching animation. Even when instructing non-animators, I rely on the classics—the bouncing ball, the 12 principles of animation, the walk cycle. Despite its stature, the Williams book nevertheless gives me pause. An admittedly "politically incorrect" anecdote about a "gay walk" begins its section on walks. In an age of "it gets better", where students (mine anyhow) will take offence to homophobic remarks, Mr. Williams comes off as retrograde at best. Sure I could (and do) dismiss him as ridiculous, old-fashioned and move on, but his gaydar is only one indication of some troublingly normative views on gender.  Most of Williams's textbook examples are drawn as stick figures, but their 'neutrality' (i.e. masculinity) is made apparent by illustrations of a "more feminine walk" that shows the identical foot passing positions of a "fashion model", a "ballerina", and a "stripper"—the last in a garter belt and fishnets. To show action in silhouette, Williams provides a sequence of a woman removing her stocking, and for flexibility, four pages of drawings of a topless exotic dancer. Williams does not sexualize all of his female characters, for he also animates an old crone. Though Williams explains his examples are "in exaggerated form", that's not to say he doesn't perpetuate some pretty antiquated ideas about women.  After all he is the creator of Jessica Rabbit. But even Jessica recognizes that she's performing a construct, as the cartoon embodiment of the patriarchal male gaze that Laura Mulvey long ago associated with classic Hollywood cinema. Lacking irony or narrative context (beyond being the doodles of a dirty old man), the representations in The Animator's Survival Kit naturalize gender stereotypes, and make bad acting acceptable. If that's the industry animation manual, is it any wonder that Ubisoft animators eliminated female avatars in their recent release of Assassin's Creed, having found that  #womenaretoohardtoanimate (Runningbrooke)?
Pop Matters D.R. Peak says, "This book isn't filled with the so-called "secrets" of animation, this book is the holy grail itself." For J.R. Riki of Animator Island, the book's only "downside…is that it does not come accompanied by video examples of the animations inside." Of course, one could always purchase the App or the $1000 16-box DVD set of The Animator Survival Kit Animated. A preview for the set, shows a clip of the previously mentioned animated exotic dancer at its end, along with Williams performing his gendered walks for an appreciative and mostly male audience. According to Williams, a macho man's walk has more vertical displacement because he spreads his legs to accommodate his "equipment," whereas women tend to glide because they keep their legs together. Never mind that his macho walk (as both performed and animated) by a man is simply awkward, whereas in role reversal, the animated woman just appears angry. Williams apparently likes his women in tight skirts and high heels if clothed at all, but he says their walk—one foot directly in front of the other—results from them "protecting the crotch (p.106)" Is that some veiled reference to rape culture? If any crotch needs protecting, isn't it the one more likely to cause weeping when kicked?
That said, The Animator's Survival Kit is not a baby I'm tossing out any time soon. Williams offers wonderful advice on animating weight, timing and breaking joints, while engaging readers in a first person account of cartoon history. Moreover, some of his examples give us an opportunity to talk about gender representation and stereotypes in the context of building technical skills. Besides his section on walking comprises over 100 pages, which makes it easy enough to skip the problematic parts. However, I do think it important to acknowledge their existence and offer students alternative templates. Preston Blair offers a slew of classic walk and run cycles, whereas Eric Goldberg's Character Animation Crash Course is a good guide for developing skills in cartoon acting. For character animation founded more closely on observation and life drawing, the National Media Museum videos on "the art of Joanna Quinn" constitute a welcome online resource that makes me want more. And for a basic walk cycle, Quinn has a simple and elegant 2-spread guide in Drawing for Animation (Wells et al), which makes for a great handout.
What resources do you recommend or avoid for teaching animation?
Cited
The Animator Survival Kit Animated
Preston Blair, Cartoon Animation. Tustin, Ca: Walter Foster Publishing, 1994.
John Canemaker, "Review: The Animator's Survival Kit," Print, 28 Jan 2010.
Eric Goldberg, Character Animation Crash Course, Beverly Hills: Silman-James, 2008.
Laura Mulvey, "Visual Pleasure and Narrative Cinema" (reprinted from 1975 Screen) in Visual and Other Pleasures. New York: Palgrave Macmillan, 2009
D.R. Peak, "The Animator's Holy Grail," Pop Matters, n.d.
Don Perro, "Book Review: Expanding the 'Animator's Survival Kit'," Animation World Network (AWN), 8 May 2010. 
J.R. Riki, "Review: The Animator's Survival Kit," Animator Island, 28 Nov 2011.
Paige Runningbrooke, "Dear Ubisoft, You Really Let Us Female Gamers Down with the New Assassin's Creed," Nerve, 16 June 2014.
Frank Thomas and Ollie Johnston, Disney Animation: The Illusion of Life. New York: Abbeville Press, 1981.
Paul Wells (with Joanna Quinn and Les Mills), Drawing for Animation. London: Ava, 2009.
Richard Williams, The Animator's Survival Kit. London: Faber & Faber, 2001
Alison Reiko Loader is a lapsed NFB animation filmmaker. She is currently pursuing her PhD in Communication Studies at Concordia University in Montreal, Canada, where she has taught in the Computation Arts and Film Animation programs as a part time faculty member since 2001. Among her concerns about Gender and Animation is an attraction to Bugs Bunny in drag that has troubled her since childhood.