In preparing my presentation for June's SAS meeting at USC, on three women who dance or perform along their animated projections, I came across an intriguing article by Teri Silvio, in the Journal of Linguistic Anthropology, entitled "Animation: The New Performance?" in which Silvio states the following:
In this essay, I argue that animation has the same potential as a structuring trope in the age of digital media and the rise of creative industries that performance had in the age of broadcast media and the rise of the service industry.
The article is tempting: if animation is the new performance, could Animation Studies become as accepted in academia as Performance Studies?  Silvio defines animation very broadly, including cosplay and puppetry within the realm of the animated. As performance capture and digital puppetry become more prevalent, this wider definition, beyond the focus on individual frames, seems inevitable.
My research is looking at places where animation and performance overlap. Investigating the history of animation and live performance, I begin to wonder what animation and animation studies would be like now if McKay's Gertie, instead of Disney's Mickey, had been the dominant character in American popular culture? What if animation had kept its close ties to live performance, to the one-person-show, the vaudeville spectacle, instead becoming known primarily as a mass-market-aimed industrial process, at least in the United States' public consciousness?
Or, what if Dada artists Emmy Hennings and Sophie Tauber-Arp had met up with Lotte Reiniger or Ladislav Starevich? They could have used stop-motion animation to bring to life her amazing puppets, and performed with them at the Cabaret Voltaire. Would animation have been an integral part of art history? It's only now, that William Kentridge and others have broken a barrier that museums and galleries are increasingly including animation alongside painting and sculpture.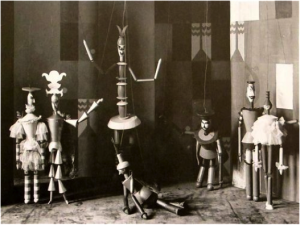 http://archives-dada.tumblr.com/image/53022250809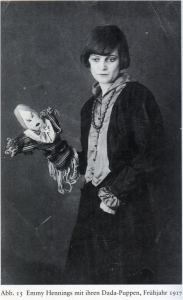 http://archives-dada.tumblr.com/image/15456056339
Why has it taken one hundred years for the combination of live performance and animation to flourish, as it seems to be now? Is it just that advances in projection and digital manipulation of images, and more accessible and inexpensive technologies have led to a boom in these mixed-media performances? Or does it represent a shift in definitions, and a blurring of the sharp distinction between the live and the pre-recorded?
I'm excited by the work of contemporary artists with a foot in both worlds – live and animated. I have written more extensively about three of these artists (Kathy Rose, Miwa Matreyek, and Eva Hall) and I am interested in crossovers between animation and performance. In my own artistic practice, I am helping develop a digital puppet or real-time animation system that would capture live movement of a hinged cut-out animal figure, and working on immersive animation projects integrating live components.
Here on this blog, I thought it would be interesting to curate some links to videos online that I find intriguing, in the hope of continuing this conversation about expanding animation beyond the screen. Here are just a few examples of how projection is being used to create art and events that blend the live and the animated.

Kathy Rose: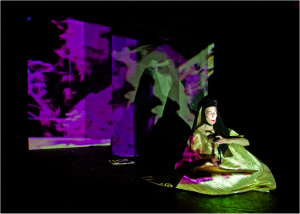 In 1983, Kathy Rose began innovating, combining dance and animation, leading to this influential piece, "Primitive Movers."
Directly influenced by the early avant-garde, as well as Japanese and other non-Western traditions, her work broke boundaries. She continues her exploration of manipulated video, performance, costume, and dance in her current work. She also works in video and installation, as in this excerpt from a piece made as a salute to the centennial of Stravinsky's Rite of Spring."
Miwa Matreyek
Miwa Matreyek creates poetic and evocative work with her shadow silhouette closely choreographed with collage animation. With a grant from Creative Capital she is following the success of her two previous performance pieces with a new work, "This World Made Itself" that premieres October 31 at the Wexner Center for the Arts.
http://www.ted.com/talks/miwa_matreyek_s_glorious_visions.html
http://wexarts.org/performing-arts/miwa-matreyek-world-made-itself
Eva Hall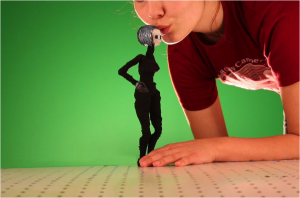 http://theantiqueseacircus.tumblr.com
A graduate of the animation program at the Kansas City Art Institute, Eva Hall created a performance piece, "Apsara," inspired by yoga, Buddhist dance and celestial figures in Cambodian temples, in which her live body appears to transform into a stop-motion puppet.  Her intention was to suggest that through movement the artist's creation, "will propel the film forward past the involvement of the creator."
http://nauticalapsarafilm.files.wordpress.com/2011/11/feed_002_01_x1_0034.jpg
Enra
Like videogames come to life on stage, productions by Japanese troupe Enra combine digital animated graphics with Kung-Fu, acrobatics, rhythmic gymnastics, and dance. Led by Nobuyuki Hanabusa (http://hana-busa.jp), an industrial designer and computer graphics producer, turned VJ , turned creative director, Enra is "a project to present a one-of-a-kind entertainment in collaboration of images…and performance by specialists of various genres."
One piece, "Fuma-Kai," follows dancers/characters as they run in place while stylized backgrounds go by, like a living side-scroller videogame. Another piece, "Primitive" uses a very effective minimal palette of black, white, and hints of red and simple shapes to play with shape and scale.
A dandypunk: http://www.adandypunk.com
Multimedia performance artist a dandypunk's website welcomes you to the "New Weird." With a neo-Victorian steampunk aesthetic, his Vimeo Staff Pick "Alchemy of Light" uses projection mapping to stage a dance between the performer and various animated projections of his creative imagination, including graffiti, a 3-d miniature robot, and a simple sketchy character in a birthday hat.  A dandypunk himself flips and contorts himself like an animated character, and throws projected light across the stage.
Shadows:  Phil Davis, Sujan Shrestha,animators, and Vincent Thomas
Vincent Thomas's dance explores ideas of masculinity through shadows of "yesterday, today, and tomorrow." In one section, created in a collaboration with animators Phil Davis and Sujan Shrestha.the dancer interacts with an animated shadow, who changes and subverts the movement of the live performance,
http://www.youtube.com/watch?v=xUBAzoCWpjE&list=UUhbqdpsMBiFFpgrwMe5MmSg&index=1&feature=plcp
Quixotic fusion
Eva Hall was influenced by this interdisciplinary Kansas City-based  performance ensemble. They combine animated visual effects with circus arts, aerieal acrobatics, dance, music and fashion.
Leo the Anti-Gravity show
http://boatrockerentertainment.com/leo.html
Through a simple illusion (a live projection turned 90 degrees), Leo appears to walk up walls, hang suspended in mid-aire, and swim with animated sea creatures.
http://youtu.be/OGpqNUQuKR4
Birgitta Hosea
http://www.birgittahosea.co.uk/pages/about.html
London-based artist Birgitta Hosea works in expanded animation, using a variety of media to investigate "hybrid forms of practice in which animation meets live presence." In one project, Dog Betty, she dressed up as the pre-human Betty Boop character, and went about daily activities.  In "Medium" she enacts a séance with projected ghosts. In her 2008 performance piece "Out There in the Dark," sound-clips from the film noir classic Sunset Boulevard accompany a projected blinking doll's head that casts an eerie image on a bag over the artist's head. She also performed this piece as a peep show.
This is by no means a thorough list. I welcome other examples, as I am sure with new portable projectors experimentation is happening around the world. Though these projects show a variety of approaches, styles, and aesthetic goals, all share an interest in creating unique experiences by mixing real-time, live, bodily performance with animated, pre-recorded, projected images to suggest alternative realities.
Mary Oliver, a professor at the University of Salford, has written a practical guide to teaching students to perform with projected images of themselves: "Me-but-not-me: Teaching the digital double." In some of her other work, Oliver talks about performing with a cartoon self, but in this article, students are asked to record their bodies and then interact with them live: projected onto items of clothing and/or screens.  She says "…performance with our digital double allows both performer and audience to transcend our corporeally based understanding of the 'live' and enter into the realms of 'magic…In order to be successful, the performance requires the audience's suspension of disbelief, the essential desire to be fooled, in short, a desire to enter a liminal experience somewhere between the cinematic and the theatrical."
It is the ability to lead to this liminal state, to an alternative subjectivity, which makes the blend of performance and animation so appealing.
Bibliography:
Silvio, Teri. "Animation: The New Performance?" Journal of Linguistic Anthropology, 20, 2 (2010): 422-438.
Oliver, Mary, "Me-but-not-me: Teaching the digital double." International Journal of Performance Art and Digital Media, 8, 2 (2012): 189-204.
 Lynn Tomlinson is investigating expanded animation projects as a scholar, curator, and artist, reflecting her interest hybrid art forms and interdisciplinary practice. Current projects include fulldome experimentation, digital puppetry, projection mapping, and interdisciplinary collaborations in performing and media arts. Her clay-on-glass animated shorts have been screened in festivals internationally and aired on children's public television, MTV, and Sesame Street. She has taught at the University of the Arts, Maryland Institute College of Art, Delaware College of Art and Design, University of Maryland Baltimore County, Stockton State College, and Cornell University. Tomlinson currently teaches at Towson University in Maryland, where she is also working on an interdisciplinary MFA.
http://lynntomlinson.com
http://vimeo.com/lynntomlinson