The animation process often combines film and fine arts practices, whether for experimental or commercial production. Animation filmmakers make use of commercially available artist supplies (paints, inks, brushes, pencils) and specific equipment (pegbars or drawing tables), but also more unconventional materials, often found or handmade, in their search for new means of artistic expression. This materiality of the animation-making process challenges archivists who develop strategies for selection, storage, registration, conservation and restoration.
To facilitate research into the history and practice of animation, it is not only vital to preserve film prints or digital files, but also animation artwork, technical devices, and documentation. Specialist knowledge is required to identify archival materials and develop conservation strategies. For example, Crafton and Nathan suggest how the lost vaudeville-version of Winsor McCay's seminal film Gertie (USA 1914) could be reconstructed, based on examination of original drawings.[i] Filmmakers and major studios hold more or less organised collections of archival materials. Pixar Animation Studios use artefacts for exhibition purposes.[ii] However animation items can be found in many private or institutional collections, all with different strategies and preservation policies. In 2012 the annual conference of the International Federation of Film Archives (FIAF) selected animation as the theme, recognizing the atypical nature of animation collections.[iii] Institutes like the Netherlands Institute for Animation Film developed proactive strategies to secure and safeguard archival materials in close collaboration with filmmakers.[iv]
An animation artwork collection can contain large numbers of items, in many different shapes and sizes. They may consist of wide variety of materials: from plastic, paper, wood, metals, textiles and found objects to different paints and pencils. The materials used are not necessarily chosen for their longevity. Preservation requires specific information about the physical composition and material condition of objects. Strategies raise such questions as: selecting the best long-term packaging and climate conditions, how to prevent degradation, and how to monitor condition of materials stored in vaults? Best practices in preservation of animation artwork are in the making. National film archives, such as the EYE Filmmuseum and Cinémathèque Française, seek collaboration with specialists from modern art, photo or paper preservation disciplines.[v] The Disney Animation Research Library collaborates with Getty Conservation Institute scientists specialized in plastics to develop best practices to identify and assess cellulose nitrate and acetate cels, 'exam[ining] their physical and thermal properties in detail.'[vi]
Archivists contribute to the preservation of animation artwork as they document and gather as much technical information as possible about archival objects. Knowledge about animation practices can be documented in production papers (notes, sketches etc.) or documentary footage (visual or audio files, photographs or interviews). One option for collecting authentic technical information about materials and creative processes is to actively involve the artist in the process, making use of interviews. Artist interviews have become good practice in contemporary art conservation and can also be a useful tool in preservation of animation materials.[vii] Further interdisciplinary collaboration and exchange of expertise will contribute to advance the rich and varied field of animation preservation.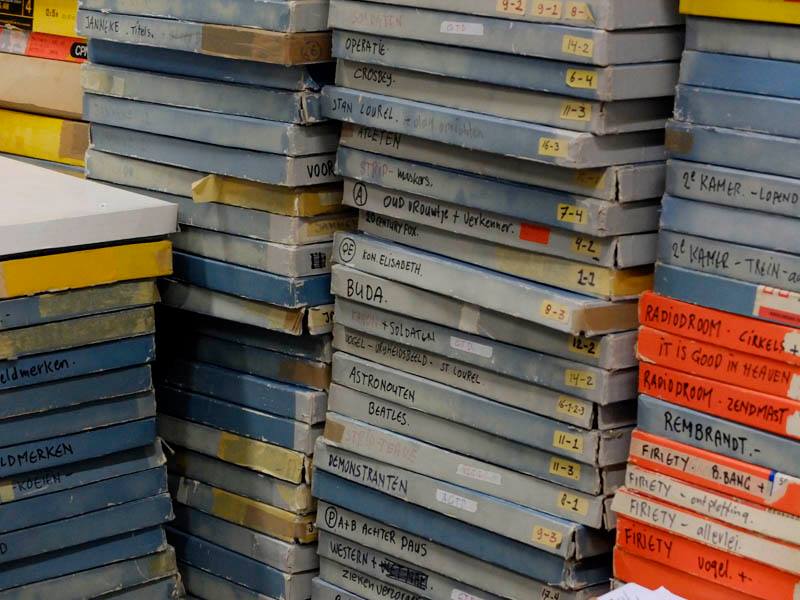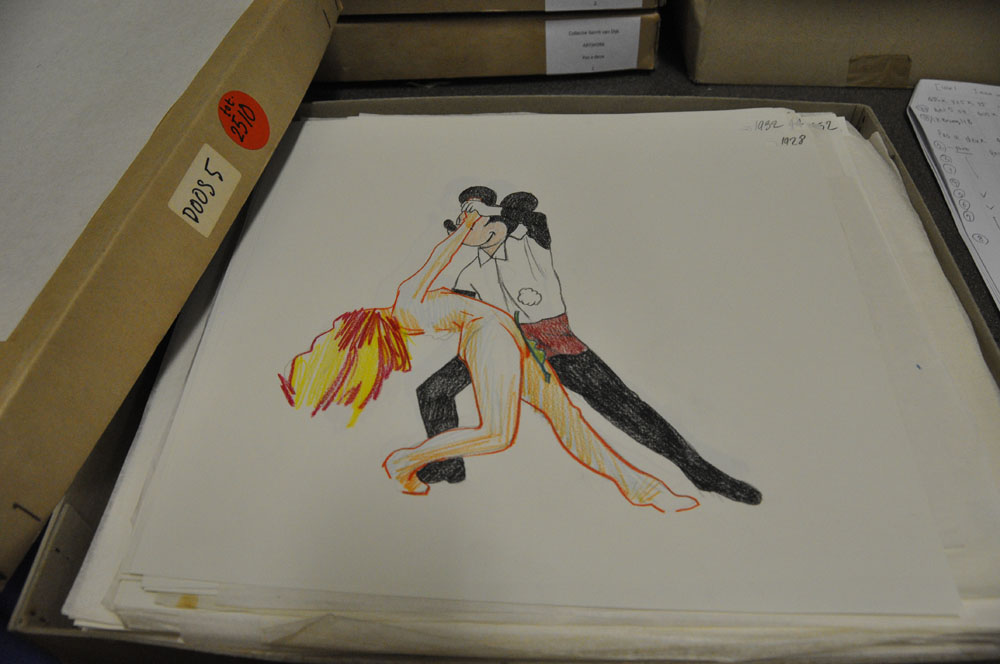 Boxes with artwork in collection of filmmaker Gerrit van Dijk (top) and drawing with coloured pencil on paper from the film Pas a Deux (Monique Renault and Gerrit van Dijk, The Netherlands 1988), collection EYE Filmmuseum.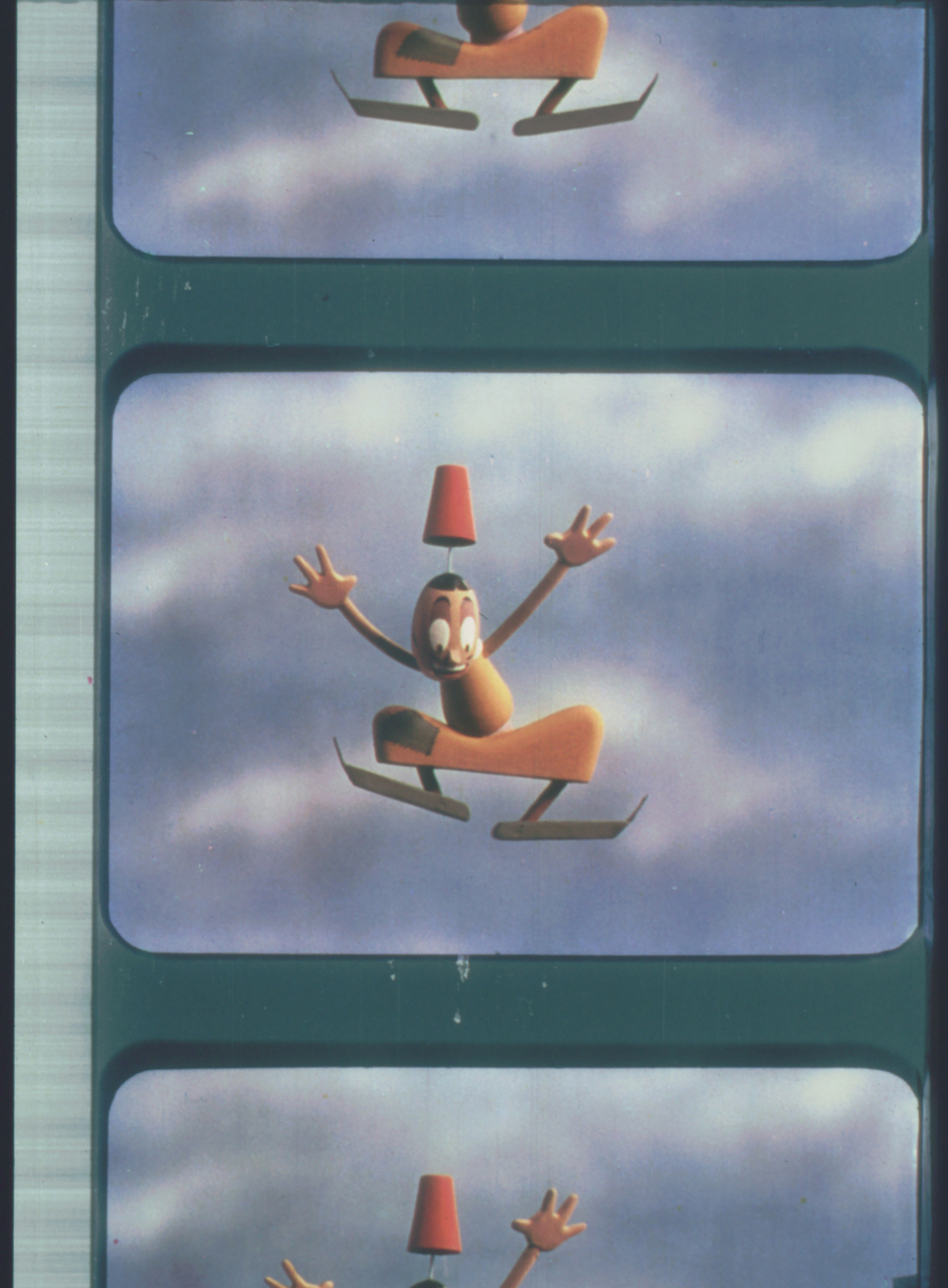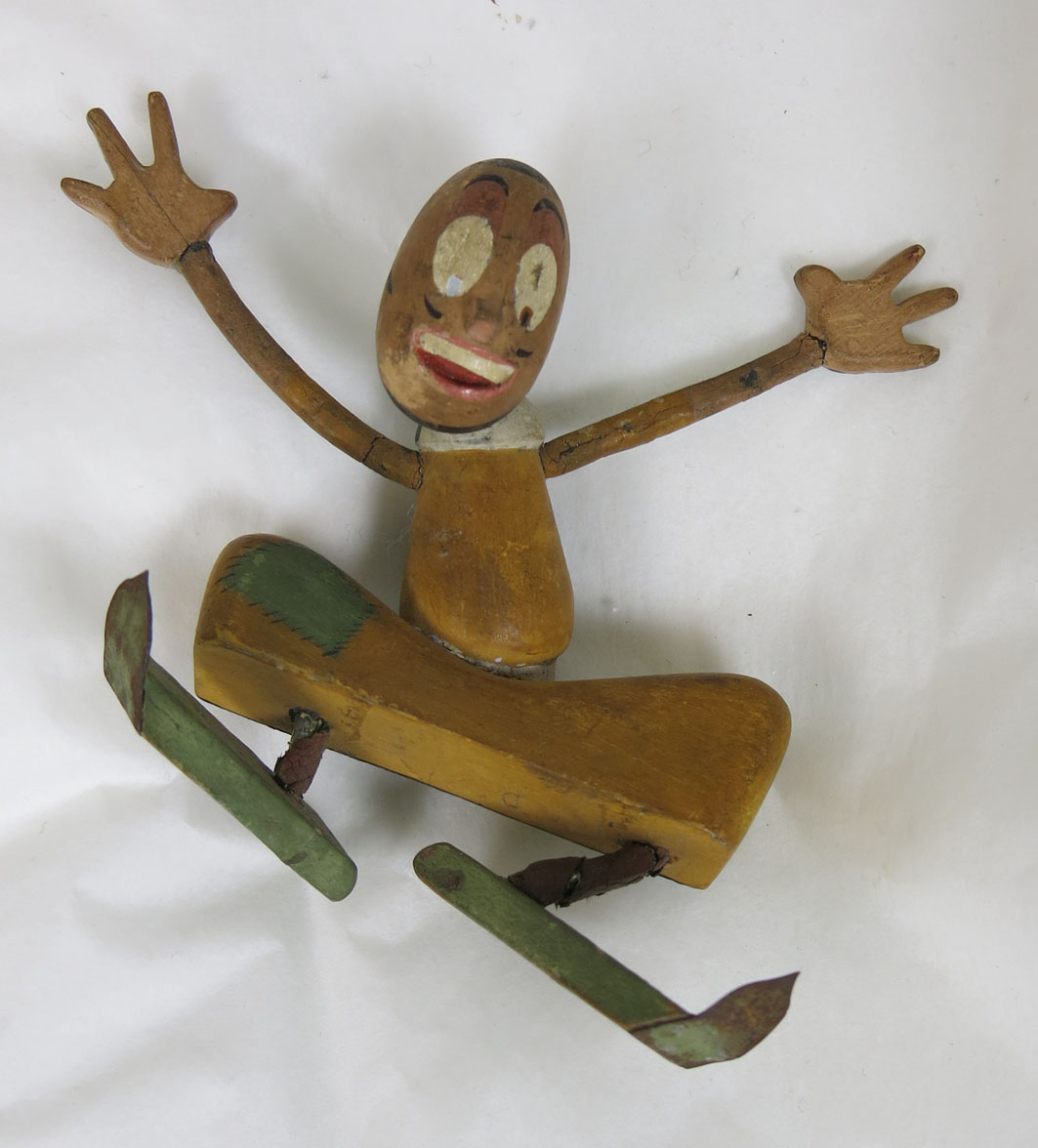 Frame enlargement of a 35mm film print (left) and original artwork from Aladdin and the Magic Lamp (George Pal, The Netherlands 1939). Puppet made of wood, metal and probably synthetic materials, with corrosion of metal parts and loss of and flaking paint. Collection EYE Filmmuseum. Copyright film Philips Company Archives.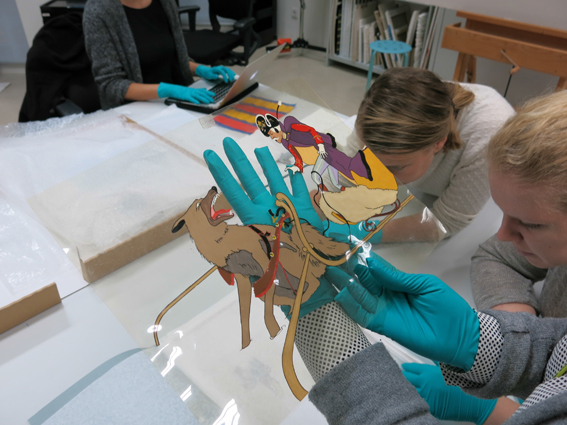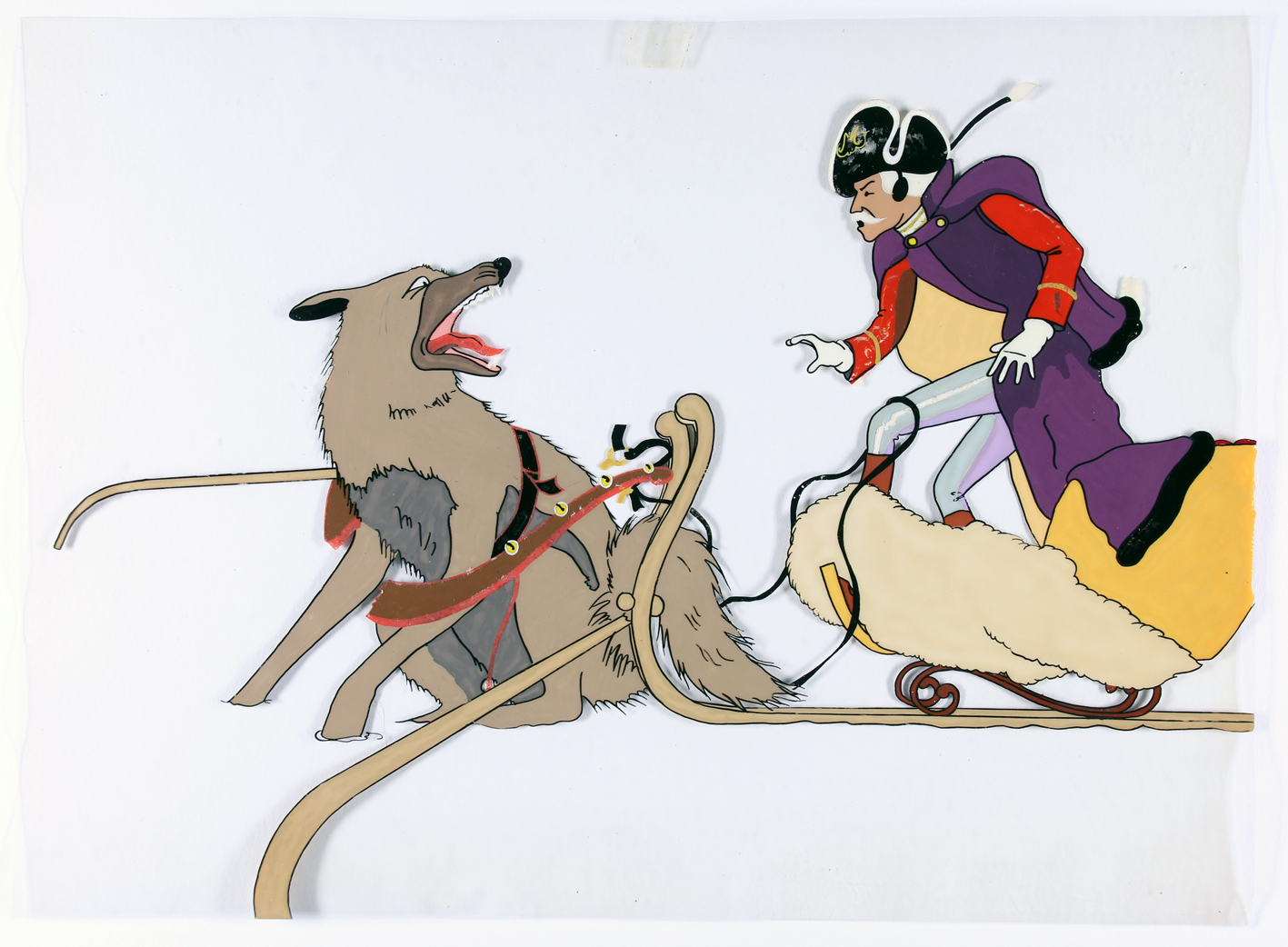 Conservation specialists from the University of Amsterdam examine the condition of cels. Has this cel got a nitrate or acetate base? Cel from Die Abenteurer des Freiherrn von Münchhausen (Hans Held, Germany / The Netherlands 1944), collection EYE Filmmuseum.[viii]
Mette Peters is film historian and animation specialist. She is active as lecturer, curator and project manager for higher education institutions, film archives, festivals and museums internationally. Her research focuses on the history of animation and preservation of animation heritage. She works at EYE Filmmuseum, The Netherlands and is PhD candidate at the Institute for Cultural Inquiry at Utrecht University. Her current research focuses on the earliest period of animation filmmaking in The Netherlands, between 1918 and 1940. http://uu.academia.edu/MettePeters
[i] Nathan, D.L. & Crafton, D., 2013. The Making and Re-making of Winsor McCay's Gertie (1914). Animation: An Interdisciplinary Journal, 8 (1), pp.23–46.
[ii] Available at: http://www.pixar.com/about/The-Exhibition [accessed May 2015]
[iii] Blois, M. de., 2012. L'Animation, cet objet bizarre. Compte rendu du symposium "L'animation à travers le monde". Journal of Preservation, (87) pp. 27-30. Available at: http://www.fiafnet.org/pdf/JFP/JFP%2087.pdf. It was then recognised that animation was 'a subject which has until now rarely been tackled by FIAF congresses'. Roy, É. le, 2012. Editorial. Journal of Preservation, (86) pp.3-6. Available at: http://www.fiafnet.org/pdf/JFP/jfp-86lr.pdf
[iv] NIAF developed a pro-active strategy in which filmmakers were contacted to secure archival materials. Peters, M. & Bosma, P., 2011. The Dutch Animation Collection: A work in progress. Animation Practice, Process & Production, 1 (1), pp.169-190.
[v] Lémerige, F., 2012. La collection des dessins d'animation de la Cinémathèque Française: la conservation des cellulos. Available at: http://www.cinematheque.fr/fr/musee-collections/actualite-collections/restauration-numerisatio/collection-dessins-anima.html [accessed May 2015]
[vi] http://www.getty.edu/conservation/our_projects/science/plastics/plastics_component1.html [accessed 19 June 2014]. Further information about this collaborative project: McCormick, K. & Schilling, M.R. 2014. Animation Cels: Preserving a Portion of Cinematic History. Conservation Perspectives, The GCI Newsletter, 29 (1). Available at: http://www.getty.edu/conservation/publications_resources/newsletters/29_1/animation.html [accessed 13 August 2014].
[vii] Beerkens, L. et al., 2013. The Artist Interview. For conservation and presentation of contemporary art. Guidelines and Practice, Heiningen: Jam Sap Books.
[viii] In a collaborative project EYE Filmmuseum and conservation specialists from the Master Programme 'Conservation and Restoration of Cultural Heritage' of the University of Amsterdam developed storage and monitoring strategies and condition reports. A special thank you to Aafke Weller and Carien van Aubel.