In 1932 Walt Disney tapped Herman "Kay" Kamen to be his first licensing representative in the character division of Walt Disney Productions. In Kamen's days – and for a few decades after – Disney did not market their products specifically for boys or for girls. Yet this did not mean gendered products were not generated and distributed. Disneyana collectors Robert Heide and John Gilman note that "Cartier offered beautiful Snow White-Seven Dwarfs [sic] charm bracelets and pins. Brier Manufacturing produced large quantities of affordable five-and-dime novelty jewelry" and women "could choose from ten different Snow White print corsets offered by Miller Corsets, Inc." (Heide & Gilman 1995: 151, 152-153). However, Disney's merchandising teams did not overtly prescribe which products were for which gender. Instead, the products were marketed with little to no embellishment. A late 1930s campaign book, collected from the Library of Congress in the US, simply lists the items and their various retailers. Potential advertising slogans are suggested, e.g. "Have your teeth like Snow White's…Use (Tooth Powder or Paste)" and "Snow White's Land o' Magic has its counterpart in our big All Year Round Toyland (Toy Store)". But, none of the slogans are meant to attract the attention of one gender at the exclusion of the other (figure 1).
This trend appears to continue into the sixties. A pressbook from 1965, collected from London's British Film Institute, lists items such as a "(1) Amusing talking dolls", "(14) A wide variety of children's books in the best quality", and a "(29) Beautifully woven nursery rug" (figures 2 and 3).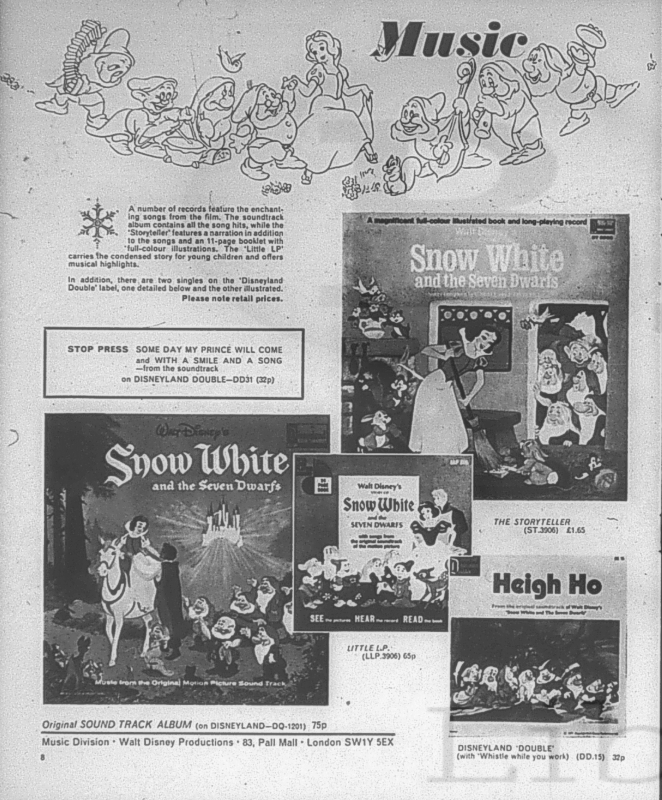 It is entirely likely that retailers gendered these items on their own. The Tomart's Illustrated Disneyana Catalog and Price Guide notes that, in 1938, "Mickey, Donald, and the Seven Dwarfs provided new impact for boy-oriented products; while Snow White generated the first real strong appeal to the femininity of girls and women" (Tumbusch 1990: 37). However, current research demonstrates that this division was a choice the retailers made and not a suggestion or a mandate from Disney themselves.
It was not until the early 1990s that Disney began to segregate their merchandise by gender. While it was Kamen who codified Disney's merchandise in order to ensure consistency across licensee products, the stringency of this codification became more apparent in a 1992 Snow White and the Seven Dwarfs style guide, a binder of images, palettes, and suggestions that Disney distributes to their licensees. This style guide, circulated to accompany the merchandise for the film's 1993 re-release, includes specifications for pantone colors, fonts, and graphics (figure 4).
As with guides from the 1930s and 1964, Disney does not explicitly state that the dwarf merchandise is for boys and the Snow White one is for girls. For the first time, however, Disney does include concept sketches in the guide. Of the ten children featured in the dwarf-focused "Feelings" theme, two are girls, one is neutral/ambiguous, and the other seven are boys (figure 5).
Meanwhile, the Snow White-focused concept sketches feature nine children, all of them girls (figure 6).
Here, the segregation is not yet absolute, but it does allude to trends to come.
It is in the 1998 Disney Classics Style Guide that the gender segregation becomes explicit. The caption accompanying the concept art reads:
"From its romantic fairytale charm to the humor of the Seven Dwarfs, our Snow White program encompasses a wide range of rich, beautiful designs. Lovely garden hues with dainty flowers recreate the beauty of the gentle woodlands. Majestic purples and blues accented with pretty hearts set the stage for a royal romance, while fresh, bright colors with pick axes, lanterns and gems from the Seven Dwarfs' jewel mines strike it rich for little boys."
Words like "romantic", "beautiful", "dainty", "gentle", and "pretty" make it clear that the program is predominantly aimed at girls. Indeed, the boy's dwarf shirt, hat, and overalls are tucked away in the corner almost like an afterthought (figures 7 and 8).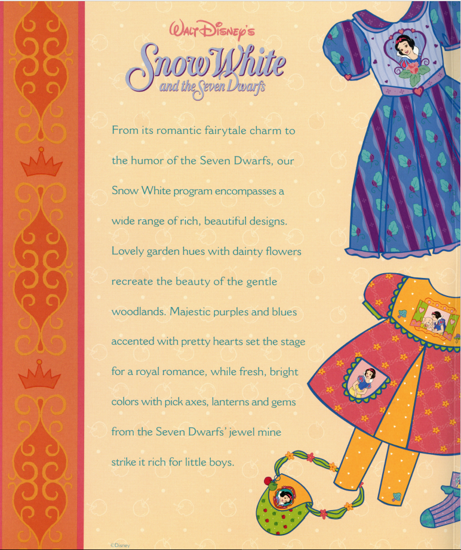 The 1998 Disney Classics Style Guide foreshadows Disney's most successful merchandising enterprise to date: the Disney Princess franchise. In 2000, former Nike executive Andy Mooney came to Disney Consumer Products to bolster the ailing merchandising division. About a month after his arrival, Mooney attended a Disney on Ice performance. He noticed that he was surrounded by little girls in homemade Disney princess costumes. Sensing the potential demand for official Disney Princess merchandise, Mooney returned to his team to establish an official style with an official color (Pantone pink No. 241) that could be sent to Disney licensees. Whereas previously Disney only marketed characters in conjunction with a film's release or pre-release, the Disney Princess franchise perpetually brought eight princesses – Snow White among them – "out of the vault". Since the inception of the Disney Princess franchise, the princesses have been featured in various iterations of pink and glittery. If the Seven Dwarfs were marketed to girls in any way in previous style guides, all trace of them are gone after the birth of the Disney Princess franchise.
While scholars, critics, and audiences alike are quick to charge Disney with an increase in industry-wide segregation, the entertainment giant is not entirely to blame. Peggy Orenstein notes:
"Splitting kids, or adults, or for that matter penguins, into ever-tinier categories has proved a surefire way to boost profits. So, where there was once a big group that was simply called 'kids,' we now have toddlers, preschoolers, tweens, young adolescents, and older adolescents, each with their own developmental/marketing profile" (Orenstein 2011: 37).
Divide those age groups into two and the profits double. This is a common marketing model, one that Disney is extremely adept at. With the success of the Disney Princess franchise, Disney came to dominate the "girl" market. This meant that Disney needed other products to market to boys, and led them to purchase franchises such as Marvel and Star Wars. A 2014 Disney Consumer Products press release states:
"During an action-packed event at the 2014 American International Toy Fair, Disney Consumer Products unveiled its dynamic product lines that will dominate boys toy aisles this year with offerings inspired by highly anticipated content: Disney's Planes: Fire & Rescue, Star Wars Rebels, Marvel's Guardians of the Galaxy and The Amazing Spider-Man 2 from Sony Pictures Entertainment inspired by Marvel's iconic webslinger" (Disney Consumer Products 2014).
Much like the Disney Princess franchise, female characters do exist in these universes and franchises, yet the marketing program does not in any way include girls.
Although the child-targeted merchandise for Snow White and the Seven Dwarfs' initial 1937 release was gendered to some degree, the boundaries between girls' and boys' products were not strictly delineated. Due in part to a drive to boost profits, Disney has increasingly segregated their products. Whether or not this practice will continue remains to be seen. With retailers like Target and John Lewis moving back toward more gender neutral marketing strategies, it is possible that Disney will eventually follow suit. However, for now the princess/dwarf dichotomy remains intact.
References
Disney Consumer Products (2014) Disney Consumer Products Ready to Capture Boys' Imagination and Dominate Toy Aisles in 2014. Available online: https://www.disneyconsumerproducts.com/Home/display.jsp?contentId=…region=0&ccPK=dcp_home_pressroom_press_room_all_US&first=0&last=0 [Accessed 21/4/14].
Heide, R. & Gilman, J. (1995) Disneyana: Classic Collectibles 1928-1958. New York: Hyperion.
Orenstein, P. (2006) "What's Wrong with Cinderella?", The New York Times Magazine, Internet edition. 24 December. Available online: http://www.nytimes.com/2006/12/24/magazine/24princess.t.html [Accessed 16/11/2017].
Orenstein, P. (2011) Cinderella Ate My Daughter: Dispatches from the Front Lines of the New Girlie-Girl Culture. New York: HarperCollins.
Tumbusch, T. (1990) Tomart's Illustrated Disneyana Catalog and Price Guide. Radnor, PA: Wallace-Homestead Book Company.
Kodi Maier is a PhD candidate at the University of Hull. Their doctoral thesis, "Dream Big, Little Princess: Interrogating the Disney Princess Franchise from 2000 to the Present Day", investigates the evolution of the Disney Princess franchise and its impact on female gender roles in the United States. Other research interests include fan studies, queer studies, and comics. Their most recent publication, "Camping Outside the Magic Kingdom's Gates: The Power of Femslash in the Disney Fandom", published in Networking Knowledge: Journal of the MeCCSA Postgraduate Network, discusses how the Disney femslash fandom manipulates Disney animated texts to create their own queer fairy tales.